University
Emory University, a top-ranked national research institution, comprises nine schools and colleges.
The main campus, in Atlanta, Georgia's historic Druid Hills suburb, is home to Emory College of Arts and Sciences, the Laney Graduate School and six professional schools. Emory was founded in 1836 in Oxford, Georgia, where the university's Oxford College is located.
The affiliated Emory Healthcare is the largest and most comprehensive health system in Georgia.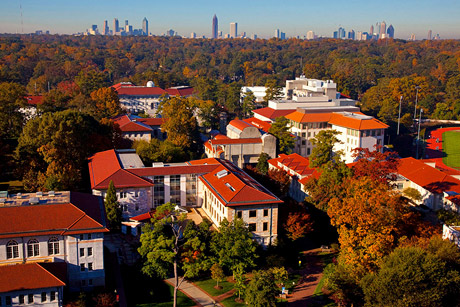 Recent News »
July 30, 2021
July 27, 2021
July 27, 2021
July 27, 2021
July 20, 2021
July 20, 2021
July 20, 2021
July 20, 2021
July 20, 2021
July 19, 2021
July 16, 2021
July 13, 2021
July 7, 2021
July 6, 2021
July 6, 2021
July 6, 2021
July 6, 2021
July 6, 2021
June 29, 2021
June 29, 2021
June 29, 2021
June 28, 2021
June 28, 2021
June 23, 2021
June 23, 2021
June 22, 2021
June 21, 2021
June 20, 2021
June 17, 2021
June 17, 2021
June 16, 2021
June 15, 2021
June 15, 2021
June 15, 2021
June 15, 2021
June 14, 2021
June 14, 2021
June 9, 2021
June 9, 2021
June 9, 2021
June 3, 2021
June 2, 2021
June 1, 2021
June 1, 2021
June 1, 2021
May 26, 2021
May 25, 2021
May 25, 2021
May 25, 2021
May 25, 2021
May 25, 2021
May 20, 2021
May 20, 2021
May 19, 2021
May 18, 2021
May 18, 2021
May 17, 2021
May 17, 2021
May 13, 2021
May 12, 2021
May 11, 2021
May 11, 2021
May 11, 2021
May 11, 2021
May 11, 2021
May 6, 2021
May 6, 2021
May 5, 2021
May 5, 2021
May 5, 2021
May 5, 2021
May 4, 2021
May 4, 2021
April 30, 2021
April 29, 2021
April 28, 2021
April 28, 2021
April 28, 2021
April 27, 2021
April 22, 2021
April 22, 2021
April 22, 2021
April 21, 2021
April 21, 2021
April 21, 2021
April 21, 2021
April 20, 2021
April 20, 2021
April 20, 2021
April 20, 2021
April 20, 2021
April 20, 2021
April 20, 2021
April 19, 2021
April 16, 2021
April 15, 2021
April 15, 2021
April 15, 2021
April 13, 2021
April 13, 2021
April 9, 2021
April 8, 2021
April 8, 2021
April 7, 2021
April 6, 2021
April 6, 2021
April 5, 2021
April 5, 2021
April 1, 2021
April 1, 2021
April 1, 2021
April 1, 2021
April 1, 2021
March 31, 2021
March 30, 2021
March 30, 2021
March 25, 2021
March 25, 2021
March 25, 2021
March 24, 2021
March 24, 2021
March 24, 2021
March 24, 2021
March 22, 2021
March 21, 2021
March 19, 2021
March 18, 2021
March 18, 2021
March 18, 2021
March 17, 2021
March 17, 2021
March 17, 2021
March 16, 2021
March 16, 2021
March 16, 2021
March 16, 2021
March 11, 2021
March 11, 2021
March 10, 2021
March 9, 2021
March 9, 2021
March 4, 2021
March 4, 2021
March 4, 2021
March 4, 2021
March 3, 2021
March 3, 2021
March 2, 2021
March 2, 2021
March 1, 2021
Feb. 26, 2021
Feb. 24, 2021
Feb. 24, 2021
Feb. 24, 2021
Feb. 23, 2021
Feb. 22, 2021
Feb. 19, 2021
Feb. 17, 2021
Feb. 17, 2021
Feb. 17, 2021
Feb. 17, 2021
Feb. 17, 2021
Feb. 16, 2021
Feb. 16, 2021
Feb. 16, 2021
Feb. 11, 2021
Feb. 9, 2021
Feb. 9, 2021
Feb. 9, 2021
Feb. 9, 2021
Feb. 9, 2021
Feb. 5, 2021
Feb. 4, 2021
Feb. 3, 2021
Feb. 2, 2021
Feb. 2, 2021
Feb. 2, 2021
Feb. 1, 2021
Jan. 28, 2021
Jan. 28, 2021
Jan. 27, 2021
Jan. 27, 2021
Jan. 26, 2021
Jan. 25, 2021
Jan. 25, 2021
Jan. 23, 2021
Jan. 22, 2021
Jan. 22, 2021
Jan. 22, 2021
Jan. 20, 2021
Jan. 19, 2021
Jan. 19, 2021
Jan. 14, 2021
Jan. 14, 2021
Jan. 14, 2021
Jan. 12, 2021
Jan. 8, 2021
Jan. 7, 2021
Jan. 7, 2021
Jan. 6, 2021
Dec. 17, 2020
Dec. 17, 2020
Dec. 17, 2020
Dec. 16, 2020
Dec. 16, 2020
Dec. 16, 2020
Dec. 16, 2020
Dec. 15, 2020
Dec. 15, 2020
Dec. 10, 2020
Dec. 10, 2020
Dec. 10, 2020
Dec. 8, 2020
Dec. 8, 2020
Dec. 8, 2020
Dec. 8, 2020
Dec. 8, 2020
Dec. 7, 2020
Dec. 3, 2020
Dec. 3, 2020
Dec. 2, 2020
Dec. 1, 2020
Nov. 24, 2020
Nov. 20, 2020
Nov. 17, 2020
Nov. 17, 2020
Nov. 17, 2020
Nov. 16, 2020
Nov. 13, 2020
Nov. 12, 2020
Nov. 12, 2020
Nov. 12, 2020
Nov. 11, 2020
Nov. 10, 2020
Nov. 10, 2020
Nov. 9, 2020
Nov. 6, 2020
Nov. 6, 2020
Nov. 6, 2020
Nov. 4, 2020
Nov. 3, 2020
Nov. 3, 2020
Nov. 3, 2020
Nov. 2, 2020
Oct. 28, 2020
Oct. 27, 2020
Oct. 26, 2020
Oct. 26, 2020
Oct. 22, 2020
Oct. 22, 2020
Oct. 22, 2020
Oct. 21, 2020
Oct. 21, 2020
Oct. 20, 2020
Oct. 20, 2020
Oct. 15, 2020
Oct. 15, 2020
Oct. 13, 2020
Oct. 12, 2020
Oct. 9, 2020
Oct. 6, 2020
Oct. 1, 2020
Oct. 1, 2020
Sep. 30, 2020
Sep. 29, 2020
Sep. 24, 2020
Sep. 23, 2020
Sep. 23, 2020
Sep. 21, 2020
Sep. 17, 2020
Sep. 17, 2020
Sep. 14, 2020
Sep. 10, 2020
Sep. 10, 2020
Sep. 10, 2020
Sep. 10, 2020
Sep. 9, 2020
Sep. 2, 2020
Aug. 31, 2020
Aug. 28, 2020
Aug. 28, 2020
Aug. 27, 2020
Aug. 27, 2020
Aug. 25, 2020
Aug. 25, 2020
Aug. 20, 2020
Aug. 19, 2020
Aug. 19, 2020
Aug. 18, 2020
Aug. 18, 2020
Aug. 17, 2020
Aug. 15, 2020
Aug. 14, 2020
Aug. 13, 2020
Aug. 13, 2020
Aug. 13, 2020
Aug. 13, 2020
Aug. 6, 2020
Aug. 6, 2020
Aug. 6, 2020
Aug. 3, 2020
July 30, 2020
July 23, 2020
July 22, 2020
July 18, 2020
July 17, 2020
July 13, 2020
July 2, 2020
July 1, 2020
June 30, 2020
June 26, 2020
June 25, 2020
June 23, 2020
June 17, 2020
June 16, 2020
June 16, 2020
June 11, 2020
June 5, 2020
June 4, 2020
June 3, 2020
June 2, 2020
June 2, 2020
June 2, 2020
June 2, 2020
May 26, 2020
May 26, 2020
May 26, 2020
May 20, 2020
May 20, 2020
May 19, 2020
May 18, 2020
May 14, 2020
May 14, 2020
May 12, 2020
May 12, 2020
May 11, 2020
May 11, 2020
May 8, 2020
May 8, 2020
May 8, 2020
May 6, 2020
May 5, 2020
May 5, 2020
May 5, 2020
May 5, 2020
May 4, 2020
May 1, 2020
April 30, 2020
April 30, 2020
April 28, 2020
April 28, 2020
April 28, 2020
April 28, 2020
April 27, 2020
April 23, 2020
April 21, 2020
April 21, 2020
April 20, 2020
April 17, 2020
April 16, 2020
April 16, 2020
March 10, 2020
Feb. 25, 2020
Feb. 18, 2020
Jan. 15, 2020
Nov. 19, 2019
Nov. 12, 2019
Oct. 29, 2019
Oct. 29, 2019