2022
Looking back at Emory's Most-Read Stories of the Year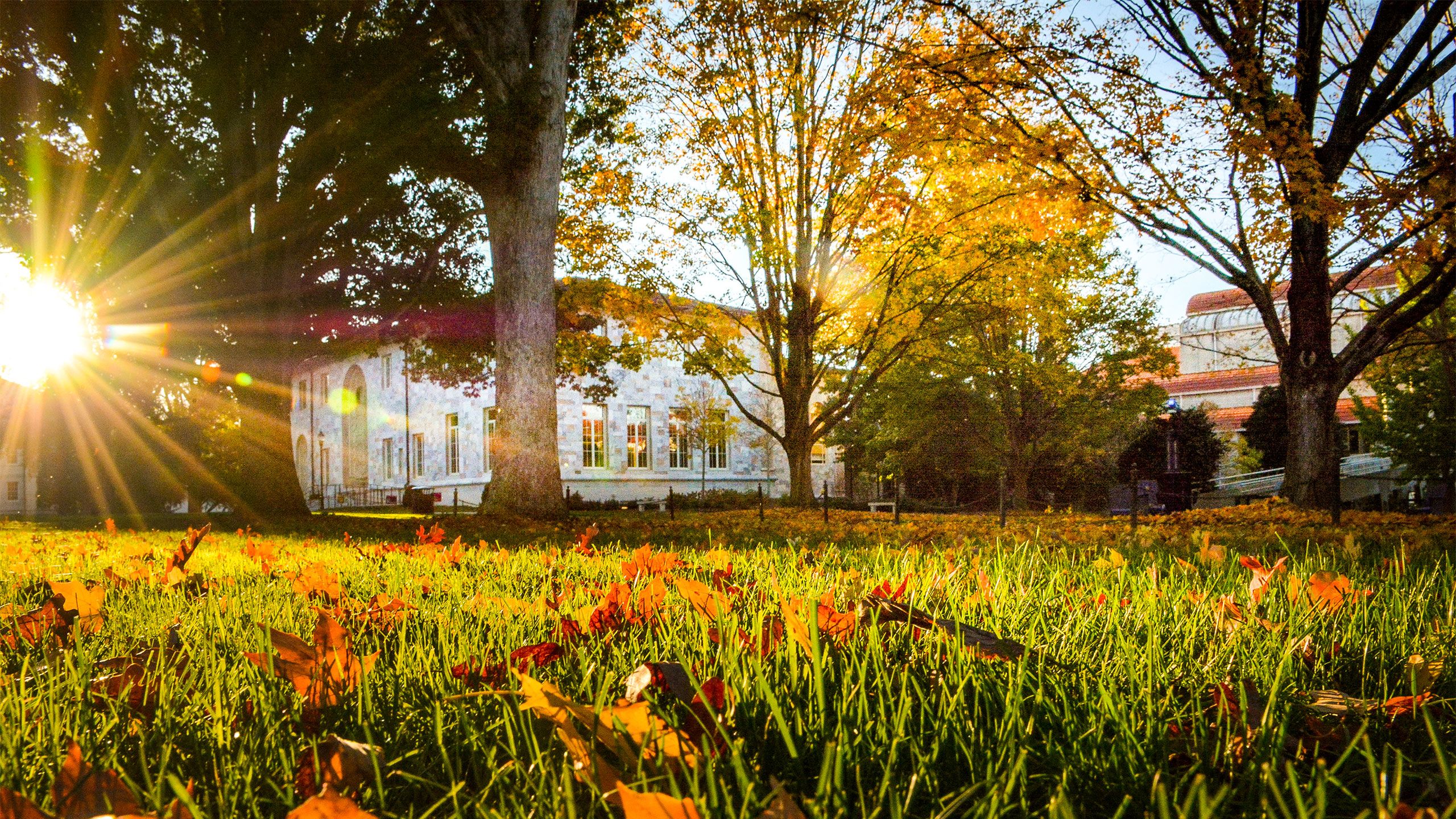 2022 began on a cautious note, as Emory joined other universities in temporarily delaying students' return to campus in the midst of the COVID-19 Omicron variant surge. Classes started remotely and transitioned back to in-person learning Jan. 31, bringing faculty, students and staff together to continue the ambitious work of learning, teaching and discovery.
With help from vaccines and boosters — plus plenty of resilience, creativity and heart — Emory's campuses celebrated the return of beloved traditions, including Commencement on the Quad, along with research breakthroughs and significant progress on key initiatives such as Student Flourishing and AI.Humanity.
Take a look back at 10 of the most-read stories of 2022 from the Emory News Center, with more headlines if you want to delve deeper into this year of achievement and service.
1. Expanding financial aid — with a focus on flourishing
In January, Emory announced that the university would eliminate need-based loans as part of undergraduate students' financial aid packages, replacing them with institutional grants and scholarships for the 2022-23 academic year.
This expansion of the Emory Advantage program gives more students the opportunity to graduate debt-free, reflecting the university's commitment to making an Emory education accessible to talented students regardless of their financial resources.
Starting in the fall, every undergraduate student eligible for institutional need-based aid automatically became a recipient of the expanded Emory Advantage program.
By December, expanding the Emory Advantage program had more than doubled the number of undergraduates on pace to graduate debt-free.
Expanding Emory Advantage is just one of many programs within Emory's new Student Flourishing initiative, which saw significant progress in 2022.
Led by Provost Ravi V. Bellamkonda, the initiative is creating new ways for students to find academic, professional and personal success, focusing on four key pillars:
ACADEMIC EXPERIENCE: Innovative teaching and expanded access to all Emory has to offer
PROFESSIONAL PATHWAYS: Holistic career exploration and professional development
PURPOSE AND MEANING: Creating opportunities to reflect on questions of ethics, purpose and meaning through the Emory Purpose Project
COMMUNITY AND WELL-BEING: Integrated support for health and wellness, with a culture that builds community and belonging
2. Welcoming the Class of 2026, drawn from the most diverse applicant pool in Emory's history
Among the students benefitting from the expanded Emory Advantage program are the university's newest undergraduates.
This fall, Emory welcomed the Class of 2026. Drawn from the most diverse pool in university history, these students arrived with a unique set of experiences, interests and dreams — particularly as they spent their last two years of high school in completely different ways, as a result of the COVID-19 pandemic.
The Class of 2026 just might be the most selective yet. Emory received 33,517 undergraduate applications and, by March, had admitted 5,303 students to the class. In August, 1,863 first-year students started their journeys at Emory College or Oxford College. This class represents 48 states, plus the District of Columbia, Puerto Rico, Guam and the Mariana Islands, as well as 40 countries.
Across the Atlanta and Oxford campuses, first-generation college students are charting their own courses. First-generation students make up 10.7% of the Atlanta campus class and 11.4% of the Oxford campus class. First-year students on the Atlanta campus boast 59 unique languages spoken at home and 18.2% are international. On the Oxford campus, 17.2% are international and students have 37 unique languages spoken at home.
Plus, in December, Emory welcomed the first students in the Class of 2027, thanks to the QuestBridge and Early Decision programs.
3. Emory ranks among the nation's best universities and best hospitals
Emory University ranked 22nd among the nation's top universities in the 2022-23 Best Colleges guidebook from U.S. News & World Report. Emory also was listed as 21st among national universities offering the best value to students based on a combination of academic quality and cost. Additionally, Emory was recognized as a national leader for campus ethnic diversity, being innovative and enrolling the most international students.
Emory's Nell Hodgson Woodruff School of Nursing was 2nd in the undergraduate nursing rankings and Emory's Goizueta Business School placed 13th among undergraduate business programs. Both schools are ranked separately from the university's main undergraduate program based on surveys of deans and senior faculty from schools and departments around the country.
In a new ranking this year, Emory is included in the "Least Debt" list that recognizes schools whose students graduated with the lowest amount of debt.
The university's graduate and professional schools and programs also ranked among the best in the nation, according to analysis and surveys in U.S. News & World Report's 2023 edition of the "America's Best Graduate Schools" guide.
Among the highlights: Emory's Nell Hodgson Woodruff School of Nursing master's program ranked 2nd in the nation; Rollins School of Public Health ranked 4th; and the Wallace H. Coulter Department of Biomedical Engineering PhD program, a joint effort among Emory School of Medicine, Emory's Laney Graduate School and Georgia Tech, ranked 2nd.
Also in 2022, Emory was named a recipient of the Higher Education Excellence in Diversity (HEED) Award, a national honor given by INSIGHT into Diversity Magazine recognizing colleges and universities that demonstrate an outstanding commitment to diversity and inclusion.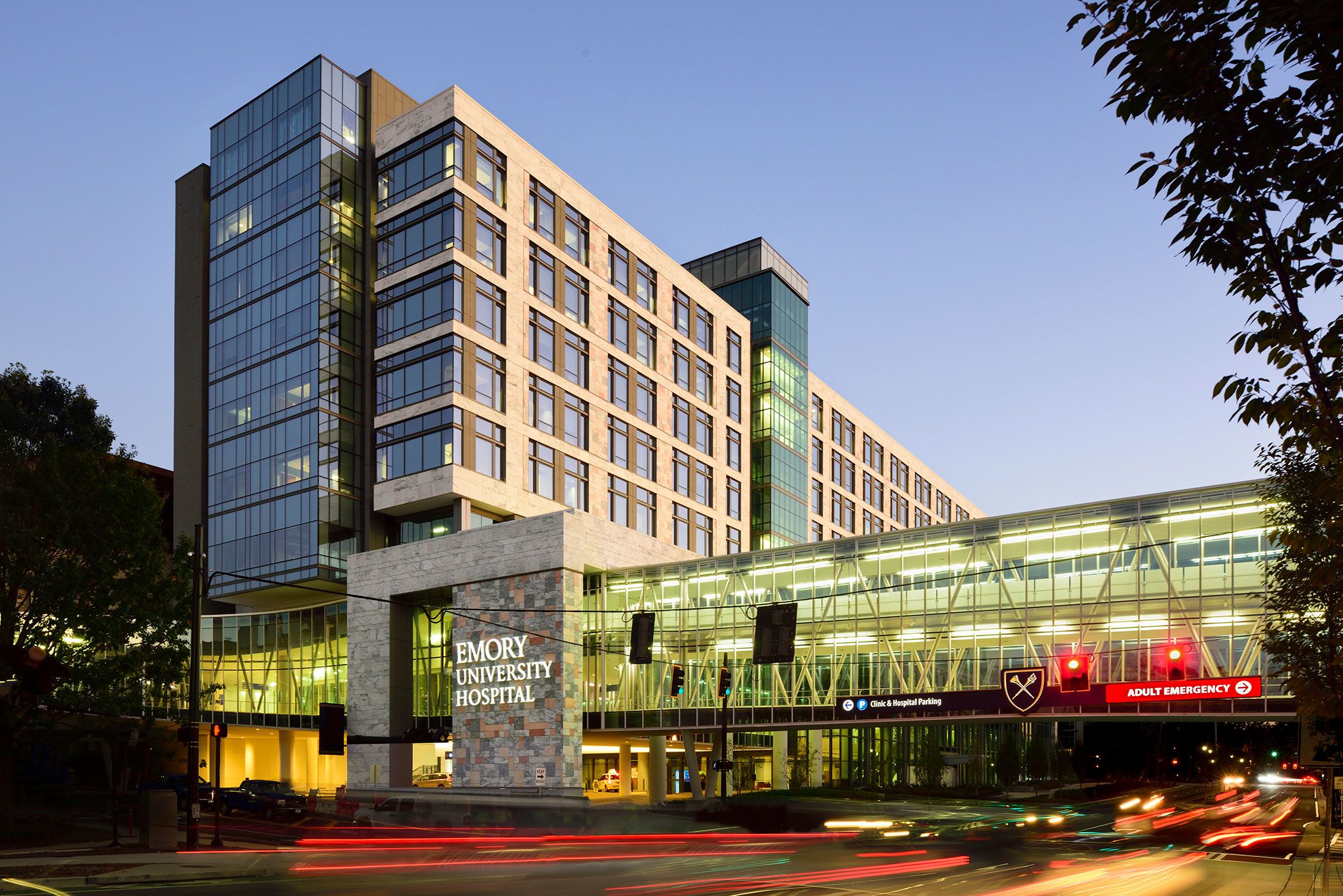 As a testament to the high-caliber care Emory Healthcare provides, for the 11th year in a row, U.S. News & World Report ranked Emory University Hospital No. 1 in Georgia and metro Atlanta in the regional rankings of U.S. News Best Hospitals.

Emory Saint Joseph's Hospital ranked No. 2 in Georgia and metro Atlanta, while Emory University Hospital Midtown ranked No. 5 in Georgia and metro Atlanta in regional rankings, known as the 2022-23 Best Regional Hospitals.
Four Emory Healthcare hospitals also were named top Georgia and U.S. hospitals, and one was named a top global hospital, in Newsweek's lists of the World's Best Hospitals 2022.
Emory University Hospital ranked No. 135 and is the only Georgia hospital named in the Top 250 global list.
Emory hospitals also fared well in Newsweek's state and national rankings:
Emory University Hospital: No. 1 hospital in Georgia (No. 29 in the U.S.)
Emory Saint Joseph's Hospital: No. 2 hospital in Georgia (No. 98 in the U.S.)
Emory Johns Creek Hospital: No. 3 hospital in Georgia (No. 208 in the U.S.)
Emory University Hospital Midtown: No. 4 hospital in Georgia (No. 278 in the U.S.)
4. Commencement and other traditions return to campus
After two years of disruptions caused by COVID-19, the Emory community was finally able to gather in person as many treasured campus events returned to their traditional formats.
And there may be no Emory tradition more beloved than Commencement.
After watching the classes ahead of them hold ceremonies online in 2020 and at the Georgia World Congress Center in 2021, the Class of 2022 ended their time at Emory with an in-person, on-campus ceremony on May 9 filled with history, tradition and even more excitement than in years past.
"Looking out at the Quad today, I can't help but think about how far this community has come," President Gregory L. Fenves said. "Much has been said of the past two years — the adversity we have faced in a world darkened by pandemic and crisis.
"But the fact remains: No matter the challenges, no matter the circumstances, no matter what was asked of them, these graduates held fast to their dreams and goals and did what they set out to do."
Entertainment icon and keynote speaker Tyler Perry advised looking throughout life for "professors" — a term that, for him, encompasses all wise counselors — and not shying away from the work needed to achieve goals.
"Don't be afraid of hard work," suggested Perry, who was awarded an honorary doctor of letters degree during the ceremony. "Don't be afraid of the pressure that will come in order for you to see your dreams through."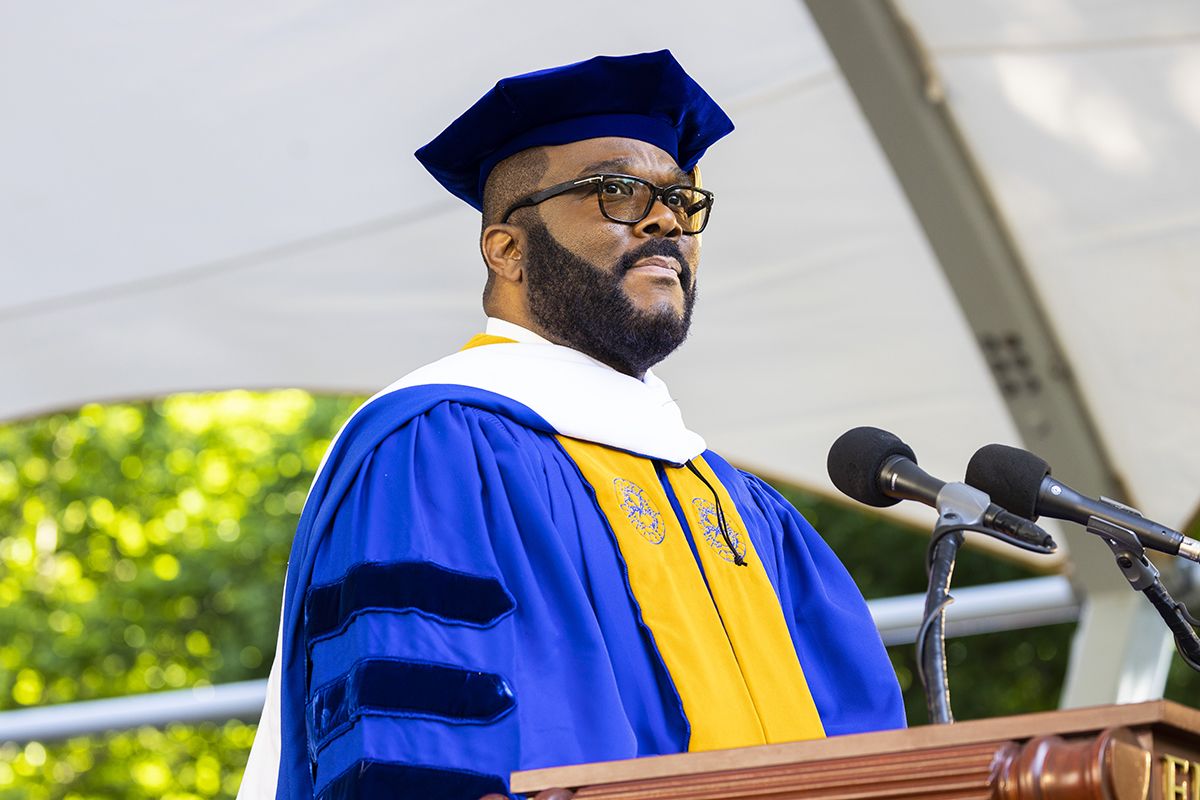 Other Emory traditions also returned in-person as COVID-19 restrictions eased.
Here are just two more milestones out of many that the Emory community was thankful to once again celebrate together in 2022: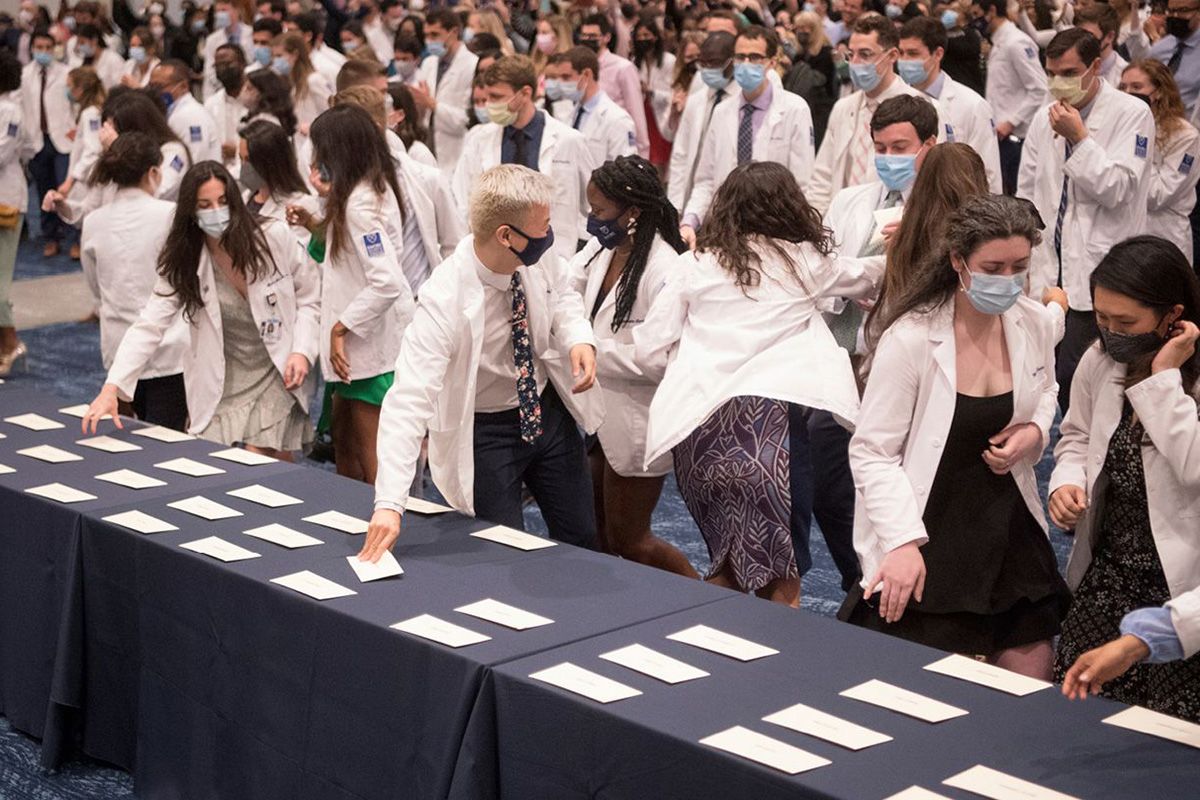 In March, students in the School of Medicine enjoyed their first in-person Match Day since 2019. The location and logistics were a bit different than pre-pandemic, but students were thrilled to gather with their families and the faculty and staff who had supported them as they learned where they matched for their medical residencies.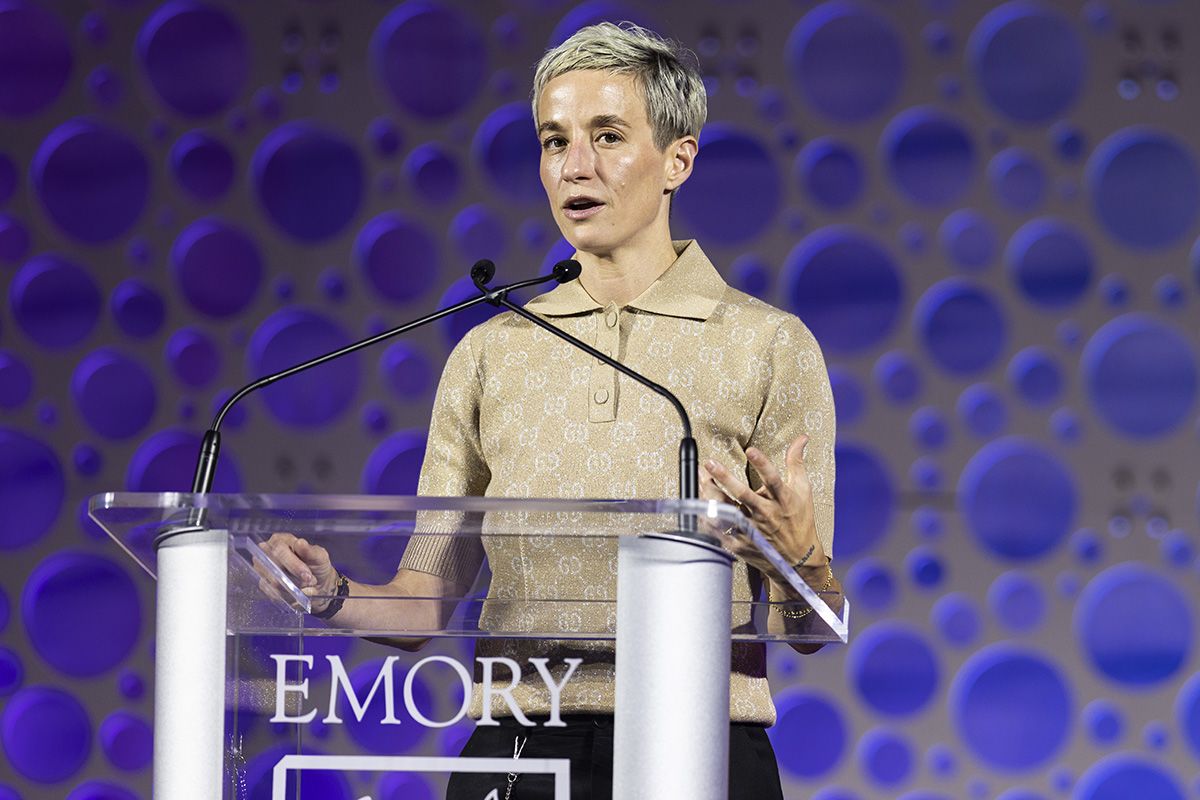 In September, the Carter Town Hall returned to its home in the Woodruff PE Center with a full audience of first-year students, after being held online and in a more limited fashion in 2020 and 2021.
The Carter Town Hall began in 1982 when former U.S. President Jimmy Carter became an Emory University Distinguished Professor. For 38 consecutive years, Carter was the sole keynote speaker, offering his wit and wisdom in response to student questions. Now, the time-honored tradition gives first-year students an opportunity to engage in interactive dialogue with international thought leaders — this year, soccer star and activist Megan Rapinoe discussed risking her career for her convictions and encouraged Emory students to be true to themselves and use their voices to advance the greater good.
5. COVID-19 research and education continues
Even as pandemic restrictions eased in 2022, Emory's strong commitment to public education and research on COVID-19 continued unabated.
Emory epidemiologist Jodie Guest's popular COVID-19 video series drew thousands of viewers throughout the year, who tuned in for the latest pandemic information. Among the most-viewed episodes:
As the

Omicron variant surged

early in 2022, Guest hosted Emory physician and epidemiologist Carlos del Rio to discuss the latest developments . In September, thousands of viewers also watched their update on

Omicron booster shots

.
With the return of spring sports, Guest and Jonathan Kim, chief of sports cardiology at Emory School of Medicine, discussed the impact of

COVID

-19 on the heart

.
Guest also teamed up with Alex Truong, co-director of the post-COVID clinic at Emory's Executive Park, to discuss

long COVID

.
Emory's biggest COVID-19 research headlines of the year included:
6. Diverse research breakthroughs, from canine cognition to cancer treatment
As Emory pivoted to respond to the pandemic, other research in the natural sciences, social sciences, health sciences and humanities never ceased.
And in 2022, for the first time since 2020, Emory's most-read research story of the year was not about COVID-19.
Instead, readers around the world were fascinated to learn more about man's best friend, as researchers in professor Gregory Berns' Canine Cognition Neuroscience Lab used fMRI and machine learning to decode visual images from a dog's brain, offering a first look at how the canine mind reconstructs what it sees.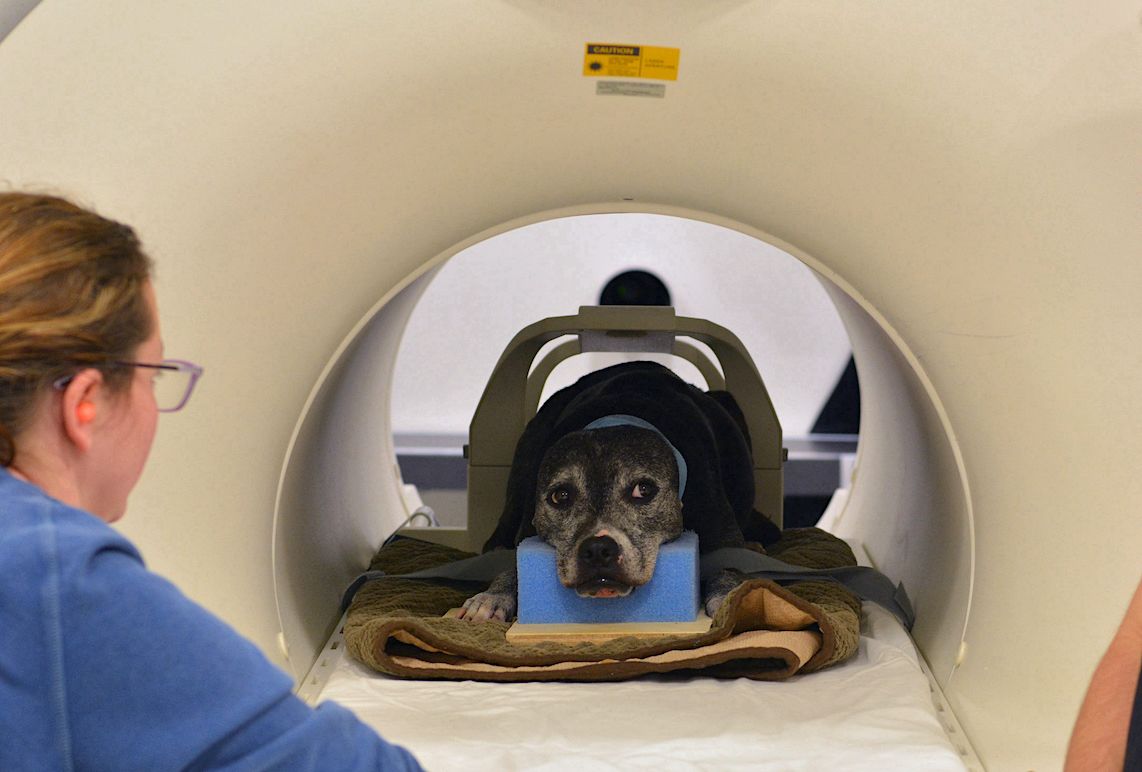 Other most-read research stories included:
7. Machine mind, human heart: leading AI to serve humanity
The AI revolution arrived quietly: less automaton overlords, more "Hey, Siri." Provost Bellamkonda is leading the charge to create a cross-disciplinary effort to figure out the impact AI is having on us — and how we can better harness its power.
That effort has spurred the AI.Humanity initiative, which saw significant progress this year. This fall, Emory welcomed 19 new AI.Humanity faculty — with even more to come.
Led by an advisory group of Emory faculty with diverse expertise in the field, the AI.Humanity initiative aims to recruit 60 to 75 leading faculty over three to five years. Hired through each of Emory's nine schools, this broad range of AI scholars will be poised for interdisciplinary work in four major focus areas: business and free enterprise, human health, law and social justice, and arts and humanities.
The initiative will be sustained by a focus on community-building to encourage scholarly collaboration, as well as educational opportunities for faculty, students and the Emory community.
In addition to the new faculty hires, key AI.Humanity headlines from 2022 include:
8. First African American studies PhD program in the Southeast
This fall, Emory announced the first PhD program in African American studies in the Southeast. The program is currently taking applications, with the first doctoral students set to enroll in fall 2023.
African American studies has a long history at Emory, which established the first undergraduate major in the interdisciplinary field in 1971, making it the first degree-granting African American studies program in the South.
"The PhD program in African American studies is something that we have worked so hard for and is so necessary, given the situation where we are right now in terms of understanding the inequities in America, how we got here and how we get out," says historian Carol Anderson, Charles Howard Candler Professor of African American Studies.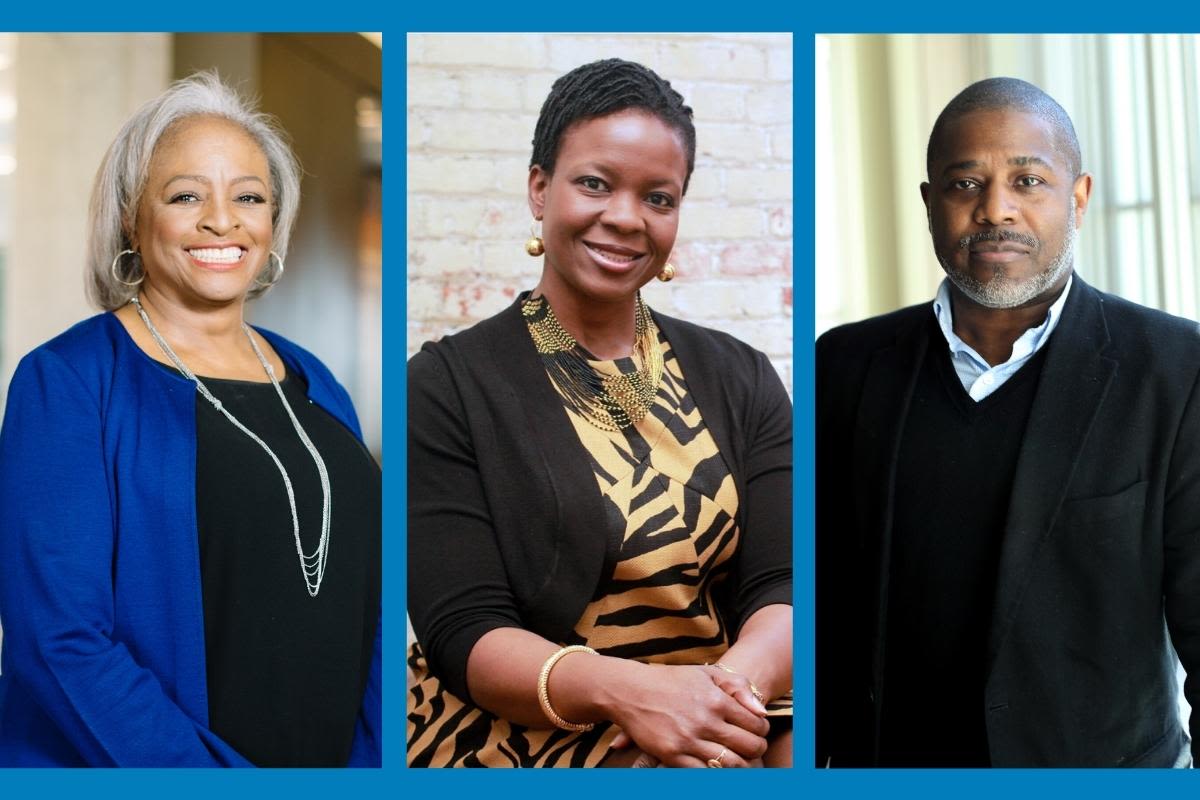 Momentum, along with hiring, has been building for the past half-decade, says Walter Rucker, professor of African American studies and history, and chair of the faculty committee that shepherded the program from proposal to implementation.
He points to faculty who have joined the department in the past six years, among them former directors of graduate studies and scholar/researchers who have trained graduate students at top programs across the country.
"Having that critical mass [of faculty] and knowing we could be the first PhD program in the Southeast, we realized we had an opportunity to create something unique," Rucker says.
With 14 core faculty and 40 more affiliated faculty throughout the university, "Emory will have the largest graduate faculty of any African American studies PhD program in the nation," says Rucker, adding that the program "is a unique and unrivaled configuration that will provide a rich intellectual space and training for doctoral students."
9. Emory professor sworn in as U.S. antisemitism envoy
On May 24, Vice President Kamala Harris swore in Emory professor Deborah Lipstadt as U.S. special envoy to monitor and combat antisemitism, a position in the Department of State with the rank of ambassador.
Described by the White House as "a renowned scholar of the Holocaust and modern antisemitism," Lipstadt is Dorot Professor of Modern Jewish History and Holocaust Studies in Emory's Tam Institute for Jewish Studies and the Department of Religion.
President Joe Biden announced Lipstadt's nomination for the post July 30, 2021. On Feb. 8, she testified before the Senate Foreign Relations Committee, which voted March 29 to approve her nomination. She was confirmed by the U.S. Senate on a voice vote March 30.
"There is no person more qualified for this important role than Deborah Lipstadt," says Emory President Gregory L. Fenves. "During a time when antisemitism is on the rise across the country and world, she is the leader our nation needs to help us overcome and transform hatred through her peerless knowledge, scholarship and expertise."
Other Emory faculty and staff were also tapped by the Biden administration to serve as leaders and role models in 2022 — on topics ranging from civil rights to cancer research.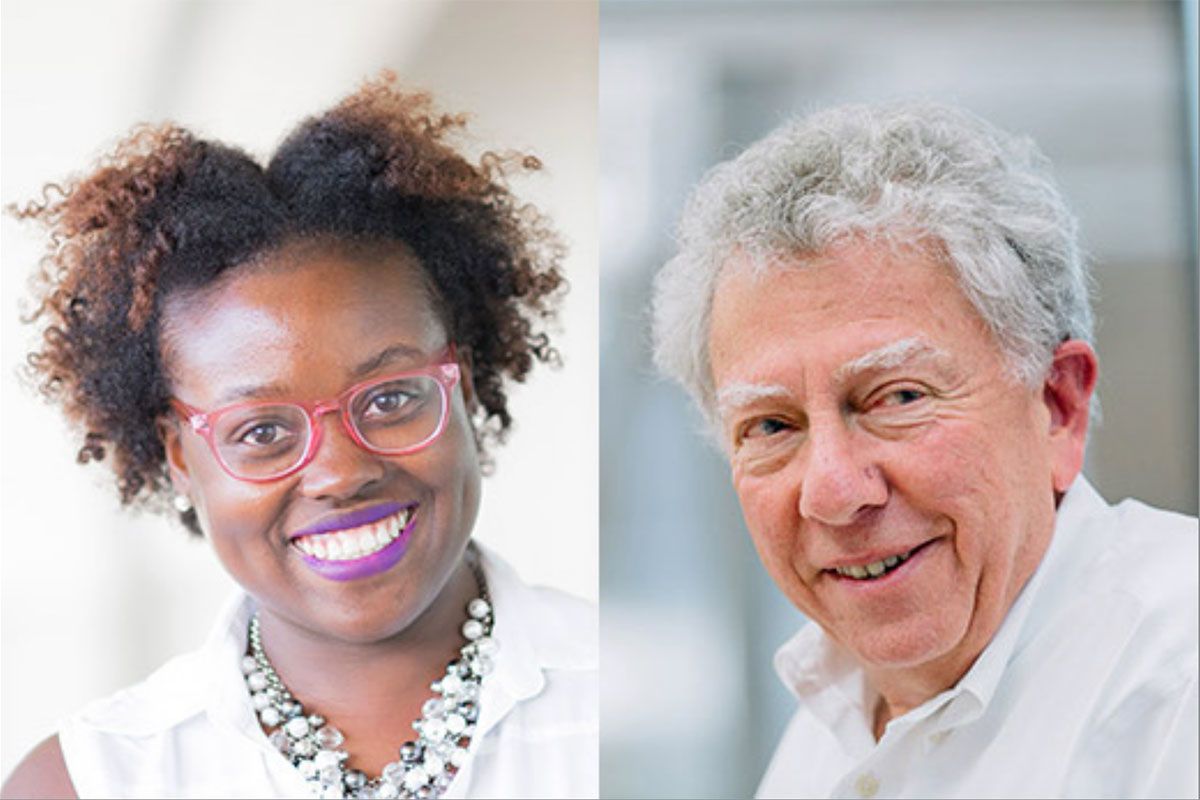 On Feb. 17, Emory University professor Henry "Hank" Klibanoff and Gabrielle Dudley, instruction archivist in Emory's Stuart A. Rose Manuscript, Archives, and Rare Book Library, were confirmed by the United States Senate to serve on the Civil Rights Cold Case Records Review Board.
Dudley and Klibanoff were nominated by Biden in June 2021. As members of the review board, they will examine government records of unpunished, racially motivated murders of Black Americans from 1940 to 1980.
Also in February, Emory neurosurgeon-scientist Edjah Nduom was tapped to introduce Biden at a ceremony to relaunch the Cancer Moonshot initiative that began five years ago under President Barack Obama's administration. The announcement highlighted the initiative's new goals to reduce the death rate from cancer by at least 50% during the next 25 years and improve the experience of people and their families living with and surviving cancer.
10. New leaders help advance Emory's mission
Emory welcomed ­new leaders in key roles across campus this year.
Ravi I. Thadhani was appointed executive vice president for health affairs in October. He will also serve as executive director of Emory's Woodruff Health Sciences Center and vice chair of the Emory Healthcare Board of Directors. Joining Emory on Jan. 1, 2023, Thadhani will shape the next era of research, training and health-care delivery innovation, building on his more than 30 years of experience as a general and specialized internal medicine physician.
M. Daniele Fallin became dean of Rollins School of Public Health on July 1. Fallin will help lead Rollins by building on the foundation laid by previous Dean James W. Curran, mentoring and supporting faculty, and supporting impactful, large interdisciplinary research. With more than 250 scientific publications that have been cited more than 22,000 times, Fallin focuses on applying genetic epidemiology methods to studies of neuropsychiatric disorders.
Also on July 1, Gareth James became dean of Goizueta Business School. James is working to support faculty and staff in their ambitions to push Goizueta forward in its research and education missions, while increasing the school's revenue base to support the recruitment of high-quality faculty and staff and provide scholarship funding for students. A statistician by training, he is an active scholar who has published extensively in the areas of functional data analysis and high dimensional statistics. His work has been cited approximately 20,000 times.
In June, Kenneth E. Carter was named interim dean of Emory's Oxford College, following Douglas Hicks' selection as president of Davidson College. Carter, an Oxford College alumnus, is Charles Howard Candler Professor of Psychology and chair of the Division of History and Social Sciences at Oxford.
In July, Carla Freeman was selected to serve as interim dean of Emory College of Arts and Sciences, following Michael A. Elliott's departure to assume the presidency of Amherst College. Freeman has served as executive associate dean of Emory College of Arts and Sciences and Goodrich C. White Professor of Women's, Gender and Sexuality Studies.
Here is a sampling of other new leaders this year:
Want to read more? Check out these stories that inspired us in 2022:
The collaboration between Emory University and The Carter Center, established in 1982, has fostered an extraordinary community of scholarship and practice that has had an impact across the world, advancing peace and improving health.
Dollie Durden has worked for 45 years as a custodian in Campus Services. Her daughter, Kechia Williams, has worked in Campus Services for 25 years. Their work ethic is unrivaled, as is their love of Emory.
Some 200 Emory community members began to absorb the ways of knowing and cosmology of the Muscogee people during an October teach-in on the Quad. Listening sessions also took place on both campuses for the Emory community and Nation Citizens to weigh in on the proposed Indigenous Language Path.
Nursing faculty members Vicki Hertzberg and Roxana Chicas, who have worked collaboratively in research surrounding renal issues related to heat exposure in farmworkers, found themselves connecting in a different way when Hertzberg needed a new kidney.
In November, Emory celebrated the newest addition to campus: the R. Randall Rollins Building. The facility further expands the footprint of Rollins School of Public Health and supports its mission of improving the world's most pressing public health issues through learning, collaboration and research.
Emory College student Laila Sabreen has quietly worked on fiction projects while pursuing additional research and community service. Her first novel, "You Truly Assumed," released this year.