Public Health
Last Modified:
At the Rollins School of Public Health (RSPH), students learn to identify, analyze, and intervene in today's most pressing public health issues. The school's location in Atlanta, referred to as the "Public Health Capital of the World," also is home to the U.S. Centers for Disease Control and Prevention; CARE; the national home office of the American Cancer Society; The Carter Center; the Arthritis Foundation; and numerous state and regional health agencies.  The School is also part of Emory University's Woodruff Health Sciences Center, providing access to the patient care, teaching, and health-related research programs of that organization.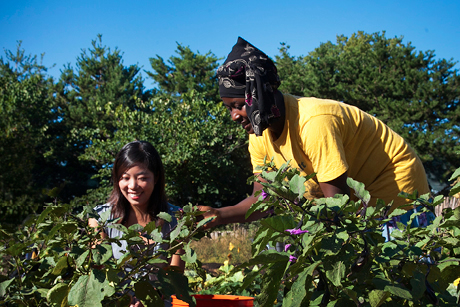 Video »
Smallpox Eradication Chronicles
On Oct. 26, 1979, smallpox was declared eradicated following worldwide vaccination programs. 30 years later, Emory University Libraries, unveiled The Global Health Chronicles, an online archive that documents the intense battle by presenting hundreds of historic documents, photos, oral histories, video, and more.
Pesticides in Breast Milk
Little is known about the exposure of infants to pesticides, despite their vulnerability and evidence of widespread dietary exposure among older children and adults.
Recent News »
May 25, 2015
May 22, 2015
May 21, 2015
May 18, 2015
May 7, 2015
May 6, 2015
May 6, 2015
May 5, 2015
May 5, 2015
April 29, 2015
April 29, 2015
April 21, 2015
April 17, 2015
April 16, 2015
April 14, 2015
April 2, 2015
March 26, 2015
March 26, 2015
March 5, 2015
March 5, 2015
March 5, 2015
Feb. 24, 2015
Feb. 19, 2015
Feb. 18, 2015
Feb. 12, 2015
Jan. 22, 2015
Jan. 14, 2015
Jan. 13, 2015
Jan. 7, 2015
Jan. 5, 2015
Dec. 22, 2014
Dec. 16, 2014
Dec. 14, 2014
Dec. 9, 2014
Nov. 25, 2014
Nov. 19, 2014
Nov. 14, 2014
Nov. 6, 2014
Nov. 4, 2014