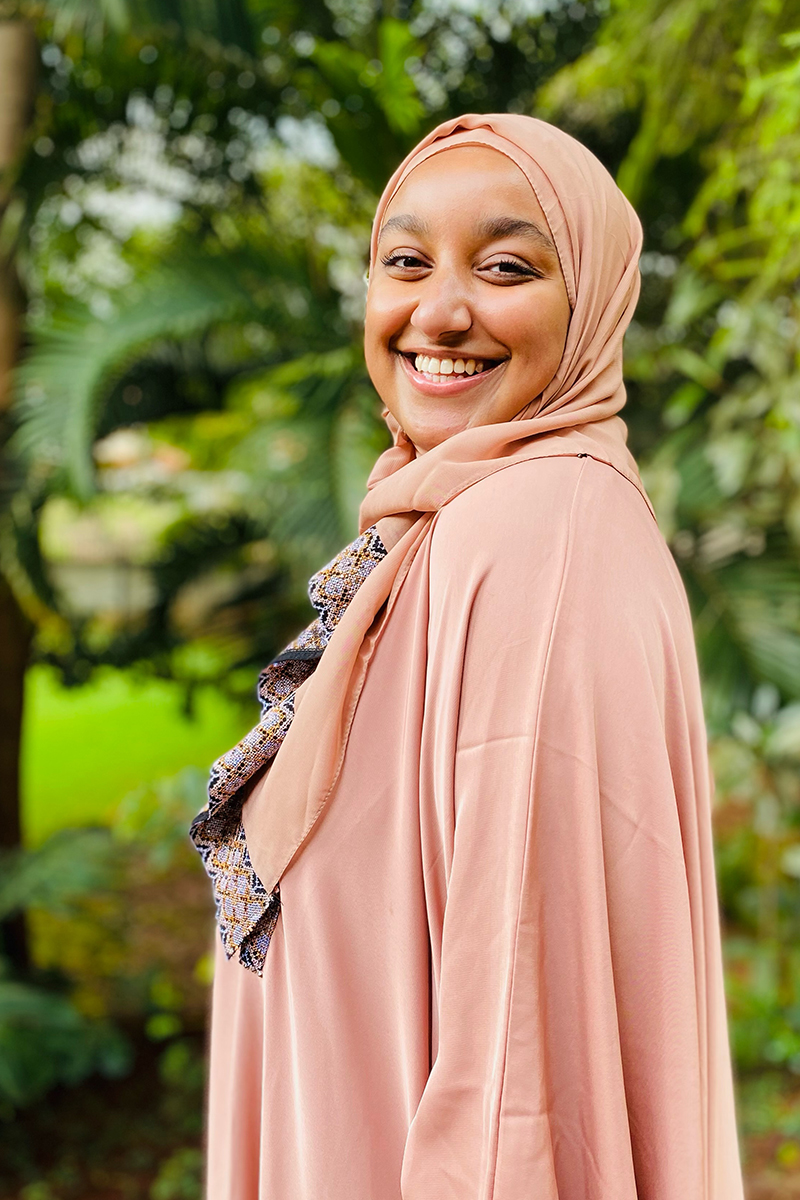 A recent Emory College graduate who is working to address global health disparities has been selected as one of 18 Luce Scholars for 2023–24.
The nationally competitive fellowship provides Layan Ibrahim 21C an opportunity for a year of immersive work experience in Asia. She will use the award to expand her research into neuropsychiatric disorders and the role that religious cultures play in diagnosis and treatment. Ibrahim majored in neuroscience and behavioral biology (NBB) while at Emory and is the university's 14th Luce recipient.
"We are excited for Layan to be among the emerging leaders whom the Luce Scholars program is recognizing for this transformative opportunity," says Megan Friddle, director of the Emory College National Scholarships and Fellowships Program, now part of the Pathways Center.
Started in 1974 by the Henry Luce Foundation, the appointment includes stipends, language training and individualized placement in several Asian countries.
Now in her second year of the masters of public health program at Vanderbilt University School of Medicine, Ibrahim is awaiting placement in what she hopes will be either Indonesia or Malaysia.
Both are Muslim-majority nations and socioeconomically comparable to Ethiopia (her family's native country and where she spent part of her childhood) and Kenya (where she lived during the COVID-19 pandemic's shift to remote learning).
"Being able to do comparative research between countries in Asia and Africa — how they view different neuropsychiatric disorders and what it entails to destigmatize these disorders for patients — is especially interesting to me," Ibrahim says. "As a first-generation Ethiopian-American, I am especially excited to find new avenues where I can give back to the communities that have given so much to me."
'No limit'
Ibrahim creates community wherever she goes. Long committed to becoming a doctor, she eagerly explored with faculty and peers in Emory's NBB program the ways that anthropology, biology, neuroscience and psychology can overlap in medicine.
Department advisors guided her to the Scholarly Inquiry and Research Experience (SIRE) at Emory. She joined the Translational Neuro-Engineering Research Lab to work with Claire-Anne Gutekunst at the Emory School of Medicine in the fall of her second year, helping Gutekunst understand the neuropathology of epilepsy in monkey models.
The combination of her courses and lab work sparked a new career path for Ibrahim: becoming a physician-scientist through a challenging MD/PhD program.
Gutekunst was struck by how quickly Ibrahim saw ways in which she could apply medical expertise with research skills — with no fear at the prospect of the long and rigorous program.
"For Layan, there is no limit to what she will try," says Gutekunst, who continues to mentor Ibrahim. "She does not feel constrained by what anyone else is doing. She sees how to connect the dots herself, and she is fearless when she sees something she wants to explore."
Indeed, during her time on campus, Ibrahim became an undergraduate scholar in Emory's NIH-funded Initiative for Maximizing Student Development, a training program that helps diversify the scientific workforce.
She also worked as a resident advisor for Campus Life, served as a research ambassador, led alternative breaks with Volunteer Emory, served as co-president of the Emory Pre-Medical Association and both danced and helped organize events with Ngambika, Emory's all-female step team.
And, when campus closed for the pandemic, Ibrahim remained active in research and class by logging in from Kenya, even during Ramadan.
"She integrated her residence life experience and her international experience into interesting ways of thinking about community and health," says Leah Roesch, one of Ibrahim's mentors and an associate professor and director for undergraduate research for NBB.
"Layan is uncommonly strong at getting into the details without losing the big picture," Roesch adds. "She doesn't just want to know the molecular mechanism of a disease state but how that integrates into a human, in a society, in a moment in time. She's not just thinking about drugs interacting with enzymes. She is thinking what does it mean for a person to have medication."
Pursuing public health
Ibrahim's realization that she was just as interested in the social impacts of epilepsy as the neural pathways behind it led her to public health. As a David Satcher Public Health Scholar at Vanderbilt, her thesis explores epilepsy knowledge and trust in providers among children enrolled in the Bridging Childhood Epilepsy Treatment Gap trial in northern Nigeria.
The goal is to analyze responses that could yield successful ways to challenge stigmas against epilepsy and other neurological disorders, as well as increase trust in treatment.
The Luce will provide Ibrahim a chance to expand on that research by working with an organization that aims to combat stigmas surrounding neuropsychiatric conditions.
She envisions continuing that research through medical school, building a global network of physicians and researchers who are able to create different public health education and clinical programs that research and treat everything from epilepsy to schizophrenia.
"I was able to meet and connect with a lot of people at Emory who opened me up to new ways of thinking and new opportunities," Ibrahim says. "It's important to me to keep my Emory ties as I continue to grow my community so that we all can benefit."
---