Main content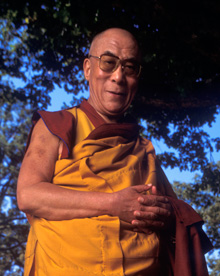 The Dalai Lama and Emory
His Holiness the XIV Dalai Lama first visited Emory in 1987, two years before receiving the Nobel Peace Prize. His second visit was in 1995, with Emory the first stop on a four-city, 12-day visit to the United States in celebration of his 60th year. He received the first Emory President's Medal during that visit and spoke to a crowd of more than 4,000 in the Woodruff Physical Education Center.
His Holiness made his third visit to Emory when he delivered the 1998 Commencement address and received an honorary Doctor of Divinity degree. In 2007, he was named Presidential Distinguished Professor at Emory University, the first and only western university appointment he has accepted.
The Dalai Lama also visited Emory in 2010 and 2013. He continues to provide private teaching sessions with students and faculty during Emory's study-abroad program in Dharamsala, India, as well as provide opportunities for university community members to interact with him through other Emory programs such as CBCT and the Emory-Tibet Science Initiative. Emory hosted a live webcast with the Dalai Lama in 2020.