Dalai Lama
Last Modified: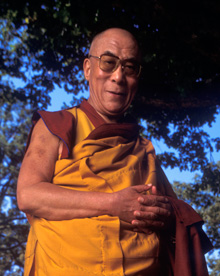 Dalai Lama to return to Emory for October events
His Holiness the XIV Dalai Lama, Presidential Distinguished Professor at Emory University, returned to Atlanta in October 2013 for a series of public and campus events, including programs on responsible citizenship, ethics and education.
The Dalai Lama last visited the campus in 2010 for a series of events on science research and meditation, creativity and spirituality, interfaith dialogue, and a teaching on compassion. He was named Presidential Distinguished Professor at Emory in 2007, the first university appointment accepted by the 1989 Nobel Laureate.
His appointment was an outgrowth of the Emory-Tibet Partnership, which was founded in 1998 to bring together the best of Western and Tibetan Buddhist intellectual traditions. As Presidential Distinguished Professor, the Dalai Lama continues to provide teaching sessions with students and faculty during Emory's study-abroad program in Dharamsala, India.
Recent News »
May 5, 2021
March 16, 2021
March 3, 2021
Dec. 1, 2020