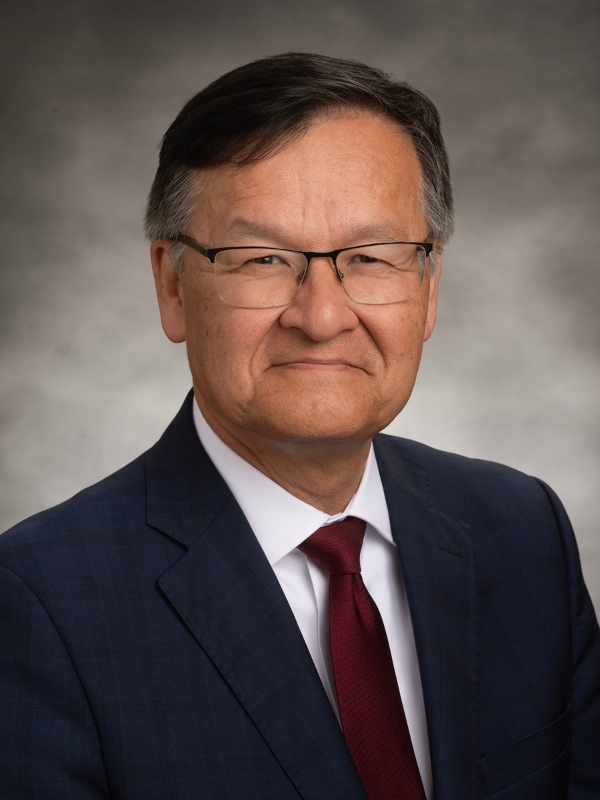 Joon Lee, MD, recently joined Emory as the new chief executive officer for Emory Healthcare. He arrives with an impressive list of accomplishments as both a physician, researcher and health care leader. Taking time out of his busy schedule, Dr. Lee shared a little bit about the path he's taken on the way to Emory, and where he wants to go next.
Q: So, let's start with an easy question. Where are you from originally and where did you grow up?
I was born in Korea and when I was nine years old my family emigrated to the small town of Morganton, North Carolina in the foothills of the Appalachian Mountains. As you can imagine, moving from a city of six million people in a third-world country to a rural community in the United States was a very interesting cultural change.
I didn't know how to speak English but received a lot of support from the school system. I worked with a speech pathologist every day and that helped me a great deal to overcome the initial culture shock.  
Q: Is there anything about your upbringing, either in Korea or North Carolina, that sparked an interest in medicine?
Well, my father is a physician, which tends to drive you to and make you wary of medicine at the same time. While my father's profession had some influence, I was always interested in science and felt I had a proclivity for that subject.
If you ask me, medicine is the ultimate applied science because it deals with us, human beings. I consider it the highest form of applied science. So, it was really the combination of applied science and getting to deal with people that was truly the lynchpin for my decision to study medicine.
Q: And what was your experience like in medical school? Why did you choose to specialize in cardiology?
I was actually interested in oncology initially in med school. But during training I was exposed to a much more expansive experience in cardiology. This was at a time when cardiology was rapidly changing because of technology. Catheter techniques in interventional cardiology were giving us multiple options to treat disease and manage heart attacks in a way that was difficult to imagine just a few years prior.
The rapid change and growing number of therapeutic options were very exciting to me as a medical student. Plus, I loved the fact that in the cardiology field you deal with a whole spectrum of patients – stable, healthy patients needing preventive care all the way to life-and-death situations.
Q: You spent 27 years at the University of Pittsburgh Medical Center (UPMC) serving in a number of roles in patient care, education, and hospital administration. How did you decide that Emory was going to be your next destination?
I joined UPMC in 1996, so I'm not someone who moves around very frequently. The decision to come to Emory was both the easiest and most difficult professional decision I've ever had to make. Easiest in the sense that Emory has a storied tradition of discovery and innovation. As an interventional cardiologist, I've always known of Emory as the birthplace of coronary interventions and angioplasty in this country. Of course, that tradition of innovation spans other specialties as well.
Emory is unique. It's the only academic medical center in a top-ten city, serving a rapidly growing metropolitan area, and I felt the opportunity to transform and tap into Emory Healthcare's endless potential was too good to pass up. As I began talking with leadership and others at Emory Healthcare about taking this role, the commitment to high quality patient care, the region, innovation, and education was obvious and further reinforced my decision.
The difficult part was that I had been a part of UPMC's transformation from a three-hospital system to a 40-hospital system. I'm a relationship-based person and I truly valued the personal and professional relationships I had made over the years. It was very hard to leave the close friends and the people who have essentially made my career.
Q: What has your experience been like thus far?
It has been great. My experience has affirmed the factors that made me decide to come here.
I've been incredibly impressed by Emory Healthcare's workforce. Not just in terms of skillset and competence (which there is plenty), but I've met so many people with 20- or 30-year tenures who have professed a genuine love and passion for the organization and a desire to see it continually evolve. And I've noticed this across departments, from doctors and nurses, to guest relations, and other hospital staff. It is also evident we have great clinical programs.  Many are best in class. The combination of the workforce and the outstanding programs are the foundation that makes me so optimistic about our future.
Q: What are you excited about for the future of Emory Healthcare? And alternatively, what is it that keeps you up at night?
To use an overused word, we've entered an unprecedented time in health care. It started with the pandemic, the great resignation, economic turmoil and everything else that has gone on in this country. These are typically once-in-a-generation type events, but they've all come together at the same time to threaten our ability to deliver high-quality health care to our patients. And they're not going away.
Every academic medical center in the country is struggling with these issues, but I believe at Emory Healthcare we have the talent and the foundation in place to overcome these challenges.
At the same time, I'm excited for the future. Emory is a center for innovation. We have a tremendous opportunity to continue to innovate how we deliver care, how we organize care, how we make care more accessible and in a more equitable fashion. Those are the things we are extremely well poised to do.
Some of that will involve technology, but not indiscriminate use of technology.  With Alistair Erskine and his teams' leadership, I am confident we will utilize technology in a smart and strategic fashion. An example of this is our plans and discussion to use artificial intelligence to allow us to provide better care and provide a better experience for our patients and our workforce.
Q: What do you enjoy doing in your free time?
I am fortunate to have a lovely wife Grace, who is a dermatologist and three semi-adult (adults in their mind, children in our mind) children (29, 25 and 22). Our family is all spread across different parts of the country, so we spend a lot of time trying to see each other and connect as a family.
Both my wife and I are 'foodies'. We like to explore food experiences. Atlanta is a great culinary town, and we're excited about trying out all the different types of cuisine this city has to offer.     
---