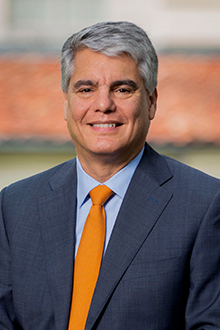 The following message was sent by President-elect Gregory L. Fenves to the Emory community on June 2, 2020.
I don't start as president of Emory until August 1, but I wanted to write to you amid the tragedies of the past weeks and the protests in Atlanta and across our nation.   
The murder of George Floyd, under the knee of a police officer, horrified me as a human being and as an American. Mr. Floyd's death, coming in the wake of so many other killings of African American citizens — including Ahmaud Arbery in Georgia — has unleashed anger and outrage about systemic racism that has not been addressed more than 60 years after the Civil Rights Movement started. We are still fighting the same battles and people have had enough — of racist violence, of organized hatred and of longstanding social inequities. And the pain we are feeling today is an expression of grief forged by centuries of historical injustices. I stand with those who protest peacefully and who are speaking out for progress during this difficult time.
But as we wade through the depths of despair, there also must be hope — for change. The Emory community has the ability not only to lead that change through education, research, health care and creative expression, but also by leading with your hearts. I am learning about your university, and one of the things that attracted me to Emory is your heartfelt commitment to justice and your record of engagement on key issues — from integration in Georgia and the fight for civil rights to other important social movements. Your community has worked closely for many years with vital organizations like The King Center and The Carter Center, and you have used the talent and resources of your outstanding university, time and again, to do good and lead your city and our nation. I have much more to hear and learn from you about Emory, and we — as a university community — have much more work to do to fulfill our obligation to be a university that leads and prepares those leaders needed for a more just society. 
My wife Carmel and I are looking forward to moving to Atlanta and becoming a part of this historic city, "the cradle of the Civil Rights Movement." It is a city like no other and one that has served as our society's moral compass — from the words and ideals of Dr. Martin Luther King Jr. all the way up to Mayor Keisha Lance Bottoms' extraordinary speech last weekend condemning looting and destruction that had been falsely masked as protesting. This city is cut differently. And so is Emory — and that is made clear by your uncompromising mission to serve humanity. 
I'll close by saying that I have been thinking a lot lately about the country that my grandchildren will inherit and the world their kids will live in generations from now. I want their world to be better than this one. And that's an idea I learned from my dad, who taught me of the dangers of legitimized hate and oppression and made it clear that it was our duty to speak up — to not be silent — so that injustice could be rooted out and overcome. It is my hope, then, that the tragedy of George Floyd's murder and those before him will awaken us all to our deepest flaws and help us heal, change and create a better future, together. 
Gregory L. Fenves  
President-elect
---