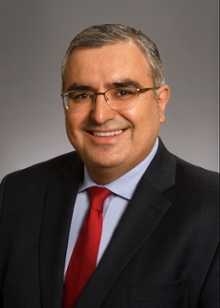 Mani Daneshmand, MD, has joined Emory as director of the Emory Heart & Lung Transplantation and Mechanical Circulatory Support programs, effective June 3, 2019. He also holds the position of director of the Emory ECMO (Extracorporeal Membrane Oxygenation) Program.  
Daneshmand comes to Emory from Duke University, where he served as surgical director of lung and heart-lung transplantation and Extracorporeal Life Support Program at Duke University Medical Center. He was also program director of the Advanced Cardiac and Thoracic Organ Transplant Surgery Fellowship at Duke and an assistant professor of cardiothoracic surgery.
His research interests focus on the causes of and treatments for advanced heart and lung failure to identify new therapies for these diseases. These include new medications; therapies such as ECMO -- a device similar to the heart-lung bypass machine -- which provides advanced life support to patients with lung and/or heart complications; mechanical pumps -- such as ventricular assist devices that can stand alone or act as a bridge to heart transplant; and organ transplantation for patients suffering from end-stage organ failure.
"We are excited for Dr. Daneshmand's future here at Emory as a leading innovator and expert in the field, as we expand our services for patients with heart and lung disease in Georgia and the Southeast," says Michael E. Halkos, MD, MSc, chief of the Division of Cardiothoracic Surgery and professor of surgery in the Department of Surgery, Emory University School of Medicine. "While at Duke, Dr. Daneshmand helped develop its program into one of the leading thoracic transplant and mechanical circulatory support programs in the U.S. Our goal is for Emory to be one of the top five heart and lung transplant and mechanical circulatory support programs in the country within the next five years."
With Daneshmand's arrival, Emory's heart and lung transplant, mechanical circulatory and ECMO programs will comprise a comprehensive program, improving care coordination for patients and their families. With continued advancement in research, it will also help bring the therapies of tomorrow to patients today receiving care at Emory. 
"The Emory Transplant Center is excited to welcome Dr. Daneshmand to Emory and we look forward to working very closely with him to provide excellent and innovative care to patients with heart and lung disease," says Thomas Pearson, MD, DPhil, executive director of the Emory Transplant Center and Livingston Professor of Surgery in the Division of Transplantation, Department of Surgery at Emory.
After graduating with a Bachelor of Science degree from Union College in Schenectady, New York, Daneshmand received his medical degree from Albany Medical College in Albany, New York. While at Union College and Albany Medical College, he took part in a seven-year honors medical education program, which allowed him to complete his undergraduate degree a year early and begin medical school. He then completed his surgical residency, cardiothoracic surgery fellowship and cardiothoracic surgery research fellowship at Duke University Medical Center.
"I am excited to join the Division of Cardiothoracic Surgery, the Emory Heart & Vascular Center and the Emory Transplant Center," says Daneshmand. "Along with the team of expert professionals already at Emory, I look forward to providing world-class transplant and life support services to the people of Georgia and the entire Southeast."
"Dr. Daneshmand will offer expert care to a specialized population of patients who will benefit from his vast knowledge and expertise in the field," says Bryce Gartland, MD, Emory Healthcare Hospital Group President. "We look forward to him joining our top-notch team at Emory Healthcare."
---