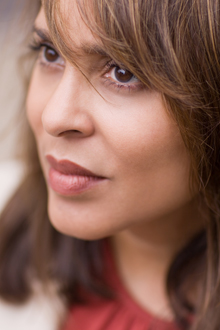 U.S. Poet Laureate Natasha Trethewey adapts "Native Guard," her Pulitzer Prize-winning collection of poetry for the stage Friday, Feb. 7 at 7 p.m. in the theater lab of the Schwartz Center for Performing Arts. Trethewey is the Robert W. Woodruff Professor of English and Creative Writing and director of the Creative Writing Program at Emory University.
Susan Booth, artistic director of Atlanta's Alliance Theatre, directs this developmental workshop in collaboration with Trethewey, the Alliance Theatre, and with support from the National Civil War Project, a multi-city, multi-year collaboration between four universities and five performing arts organizations to commemorate the 150th anniversary of the American Civil War.
Presented by the Playwriting Center of Theater Emory, the reading is part of the biennial Brave New Works festival, which brings together regional and national playwrights, adaptors, composers and dramaturges-in-residence at Emory with student and professional actors to produce new plays and playwriting.
This year's festival, which runs through Feb.15, explores the process of adapting Pulitzer prize-winning poetry, staging oral traditions from one of America's most isolated communities, telling the life and times of Florence Nightingale, and bringing many more stories to the stage.
"Several of our writers this year are bringing history to the stage in powerful, theatrical and highly personal ways," explains Lisa Paulsen, director of the Playwriting Center.
All events will take place in the theater lab of the Schwartz Center for Performing Arts. All presentations are free and open to the public, but space is limited, so reservations are recommended. Reservations can be made by calling the Arts at Emory box office at 404-727-5050. For a full schedule see www.theater.emory.edu.
---