New artistic work inspired by U.S. Poet Laureate Natasha Trethewey's poetry collection "Native Guard" will be at the center of a collaboration between Emory University and Atlanta's Alliance Theatre, part of a national program to commemorate the 150th anniversary of the Civil War.
Emory's Center for Creativity & Arts and the Alliance Theatre will begin work this summer on a three-year partnership to create original theatrical work and new arts-integrated academic programming inspired by the anniversary.
As a part of the National Civil War Project, Emory is among four universities chosen to join regional theaters and performing arts groups in developing work that explores multiple facets of the Civil War. Partner organizations include:
Harvard University and the American Repertory Theater in Cambridge, Mass.

George Washington University and Arena Stage at the Mead Center for American Theater in Washington, D.C.

The University of Maryland's Clarice Smith Performing Arts Center and CENTERSTAGE in Baltimore, Md.
The theatrical centerpiece of the project calls for creation of new drama, dance and music inspired by the Civil War, as well as scholarly work, public programs, and student-generated exhibitions, playwriting and performance projects.
For Emory's Center for Creativity & Arts, the collaboration represents a groundbreaking endeavor, according to Leslie Taylor, professor of theater studies and director of the center, which she says is eager to engage in "this timely and necessary exploration of the Civil War and its continuing aftermath in our society."
"I don't think anything quite like this has been done before, with multiple consortium partners looking at a single thematic topic over a period of time," she notes.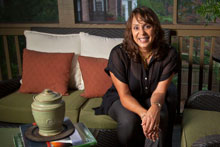 Poet Laureate Natasha Trethewey
Trethewey's poetry inspires new work
Under the project, Emory's Center for Creativity & Arts and the Alliance Theatre will collaborate on several Civil War-focused projects, including a major work inspired by "Native Guard," the Pulitzer Prize-winning poetry collection by Trethewey, who heads Emory's Creative Writing Program. Projects include:
Panel discussions and research activities hosted by the Emory Center for Ethics about the Civil War and Atlanta's development as a city;

A developmental workshop during The Playwriting Center of Theater Emory's developmental laboratory, Brave New Works, in winter 2014;

A theatrical stage adaptation of "Native Guard," to be directed by Alliance Theatre Artistic Director Susan Booth and premiere during 2014-2015 season.
Lisa Paulsen, director of The Playwriting Center of Theater Emory, views the Civil War Project as an opportunity "to seek ways for theater to grasp and express this fundamental and perplexing piece of being an American in the 21st century."
"The history of the Civil War lives on in all of us, as Americans," she explains. "At Emory University — founded in Georgia in 1836 — we are particularly, and sometimes painfully, aware of the complexity and contradictions of our own ongoing relationship to this history."
"The Civil War and Emancipation are deeply entwined in our personal and collective actions, words, and aspirations," Paulsen adds. "We're proud to seek ways for theater to grasp and express this fundamental and perplexing piece of American history."
Emory's playwriting center will also pursue a variety of collaborative projects between regional playwrights and Emory students.
"Currently, we are in discussion with Jasper Watts on his 'Sapelo Project,' based on oral histories gathered on Sapelo Island, Georgia," Paulsen says.
"His people are the Saltwater Geechee (or Gullah), who were among the first slaves freed in the South and currently face the possibility of losing the land they have owned since Emancipation."
Collaboration enhances new understanding
For Atlanta, the National Civil War Project took root two years ago when Booth, of the Alliance Theatre, was approached at a performing arts conference about participating in a new national project, "a radical collaboration" to investigate the American Civil War.
"What appealed enormously was the prospect of these very different parts of the country colliding with a shared American juncture and working with artists to capture all the different ways that war manifests to this day," Booth says.
The topic was rich with possibilities; Atlanta was rich with resources. And there was no question of what university she would approach about collaborating.
Booth had "fallen in love with 'Native Guard' at first reading," and had already approached Trethewey about bringing it to the stage. So when the Civil War Project sought "theatre/university partnerships, there was an inevitability to partnering with Emory," she explains.
The project gets off the ground this summer, when the Alliance Theatre will launch a young writers project to explore the Gettysburg Address and the Emancipation Proclamation under the guidance of nationally recognized playwright, author and poet Pearl Cleage.
"They will pull those texts apart, examine them from their own 'right here, right now' perspectives, and reassemble them as a new work for performance," Booth explains.
In preparation for a later stage adaptation of "Native Guard," a series of community conversations featuring various artists will also be hosted around the city, and Booth welcomes community participation.
"We want to hear how the Civil War lives in today's world, and we want artists to make work out of those conversations," she adds.
---