"Romare Bearden: A Black Odyssey" exhibit that opened in December at the Michael C. Carlos Museum inspires several high-profile events in January and February with its theme of African American migration based on Homer's epic poem of Greek hero Odysseus' long journey home from the Trojan War in the 12th century B.C. All events are free and open to the public unless otherwise noted.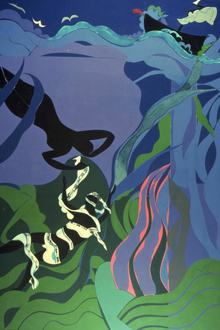 Artist Bearden's depiction of Circe, goddess of magic.
Reading: A live reading of all 24 books of "The Odyssey" over the Jan. 24-26 weekend will feature readers from the Emory and greater Atlanta communities.  
A translation by Stanley Lombardo, professor of classics at the University of Kansas, will be read by Lombardo himself beginning Friday, Jan. 24 at 7 p.m. Reading will continue again at 7 p.m. Saturday, Jan. 25 and at 2 p.m.  Sunday, Jan. 26. All reading will take place in the Carlos Museum Reception Hall.
Readers will include faculty members and students from Emory's departments of Classics, English, Theater Studies, and the Woodruff Library. Atlanta actors E. Roger Miller, Chris Kayser, Tiffany Mitchenor, Lisa Paulsen, Tom Key, Janice Akers, and Tim McDonough will be reading as will former Atlanta Mayor Shirley Franklin and local television and radio personalities Jovita Moore, Valerie Jackson and Rose Scott. Lombardo will close the reading with the final book.
Zoe's Kitchen will offer Mediterranean snacks for sale during the event.
Tour: On Thursday, Feb. 6, at 7:30 p.m., Jasper Gaunt, curator of Greek and Roman art at the Carlos Museum, leads visitors through the Greek and Roman galleries exploring images from Homer's "Iliad" and "Odyssey," then through "A Black Odyssey" viewing artist Bearden's treatment of the subject in watercolor and collage. The Greek and Roman Galleries are on level one of the museum.     
Lectures: All lectures will be held in the Carlos Museum Reception Hall. Robert O'Meally, Zora Neale Hurston Professor of English and Comparative Literature at Columbia University, will present "Love and Gender: Homer, Bearden, and Eros," Tuesday, Feb. 18, at 7:30 p.m. O'Meally curated the Bearden exhibition for the Smithsonian Institution Traveling Exhibits.
"Conjuring Bearden" will be presented by Richard J. Powell, John Spencer Bassett Professor of Art and Art History at Duke University, on Wednesday, Jan. 22 at 7:30 p.m.
"Romare Bearden and the Great Migration" is the title of this year's Nix Mann Endowed Lecture to be given by Isabel Wilkerson, whose book "The Warmth of Other Suns: The Epic Story of America's Great Migration" explores the flight of six million African Americans from the American South. The lecture will be on Sunday, Feb 2, at 4 p.m.
There will be a booksigning after the talk.
Book club: Louise Pratt, chair of the Classics Department, will lead readers though contemporary reinterpretations of Homer's "Iliad" and "Odyssey" using "Ransom" by David Malouf on Monday, Jan. 27 and "Big Fish" by Daniel Wallace on Monday, Feb. 10.  All club meetings are held at 7:30 p.m. in the museum boardroom on level two.
There is a fee of $20 for Carlos Museum members and $25 for non-members and includes the cost of the book. Space is limited and advance registration is required by calling 404-727-6118.
Poetry reading: The annual Laszlo Excalibur Lecture features British poet Alice Oswald reading from her most recent book "Memorial: A Version of Homer's Iliad" on Tuesday, Feb. 25 at 7 p.m. in the Carlos Museum Reception Hall.
Discussion: Robert O'Meally; Emory Associate Professor of Music Dwight Andrews; and Emory Playwright-in-Residence Paul Carter Harrison will discuss the music that influenced Bearden and his influence on musicians. "Bearden & Music: A Conversation" will be March 4 at 7:30 p.m. in the Carlos Museum Reception Hall. Afterward, the Vega String Quartet will premiere a new composition by Andrews, inspired by Bearden's work and by a suite of Bearden-inspired poems by poet and curator of Emory literary collections Kevin Young.
"Romare Bearden: A Black Odyssey" is organized by Smithsonian Institution Traveling Exhibits and is on view at the Carlos Museum through March 9.
---