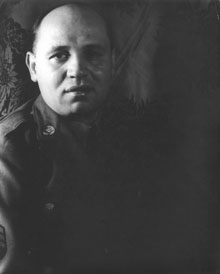 Romare Bearden materials from Emory University's Manuscript, Archives, and Rare Book Library (MARBL) are highlighted in an exhibition that opens this month at the Michael C. Carlos Museum on the Emory campus.  
"Southern Connections: Bearden in Atlanta," showcases the artist's significant ties to Atlanta. Drawing on MARBL's rich holdings and enhanced by loans from Hammonds House Museum, Clark Atlanta University and private collectors in Atlanta, the exhibition also brings together original Bearden works of art, photographs of the artist and his circle and related printed materials.
Many of these materials have never been shown in public. "Southern Connections" will be on view from Dec. 14, 2013, through March 9, 2014, as a complementary exhibition to "Romare Bearden: A Black Odyssey," also at the Carlos Museum.  
"This is a great opportunity for MARBL to showcase the wonderful collections we've acquired related to African American art and art history, which has become one of the pillars of our collecting focus," says Randall K. Burkett, curator of MARBL's African American Collections.  
Exhibit includes vintage photographs  
MARBL materials exhibited include vintage photographs of Bearden and his contemporaries from the Cedric Dover papers, including a series of original silver gelatin prints by Harlem Renaissance photographer Carl Van Vechten, as well as more recent photos of Bearden taken by Atlanta photographers during his frequent visits to the city.  
The exhibition will also display MARBL manuscript materials from the:
Private art collectors have generously loaned their Bearden pieces for "Southern Connections," including Billops-Hatch board members and their spouses Wesley and Missy Cochran and Brenda and Larry Thompson, Burkett says.  
MARBL-Carlos Museum collaboration  
This is the second collaboration of its kind between MARBL and the Carlos Museum; the first was the recent "Images of Rome" exhibition at the Carlos in the fall, which featured maps and rare books from MARBL. Burkett says it's the first partnership of its kind between the Carlos and MARBL's African American Collections.  
"This is something we're really eager to build on," Burkett says. "We're getting so many papers of artists and art historians, and I'm hopeful we'll be able to work with the Carlos to enhance their collection of works on paper by African American artists. This could be the basis for great collaborations in the future."  
Bearden's ties to Atlanta
Romare Bearden (1911-1988) had ties to Georgia that include former Atlanta University professor W.E.B. Du Bois, a family friend from the time Bearden was a young boy, whose ideas informed and shaped those of the artist. Bearden's friendship with African American artist Hale Aspacio Woodruff began when Bearden visited Spelman College in 1941 and continued until Woodruff's death in 1980.
Bearden had several solo exhibitions at Spelman beginning in 1967, and was artist-in-residence in 1968. Atlanta's Neighborhood Art Center named its gallery after him, and Bearden donated monoprints in 1978 to financially support that artist coalition.
The artist's association with Otis T. Hammonds, an early collector of Bearden's work, and his longtime friendship with the late Richard A. Long were profoundly important in sustaining his relationship to the Atlanta community.
"Bearden made many trips to Atlanta over a period of years," says Amalia Amaki, art historian and "Southern Connections" co-curator. "It was clear he had established meaningful professional connections with the city and its people, including such artists as Jenelsie Holloway, John Riddle, and Hans Bhalla, as well as numerous prominent art collectors."
Amanda Hellman, Carlos Museum curator of African Art and co-curator of "Southern Connections," says, "'Southern Connections' surveys Bearden's literary, scholarly, and artistic relationships in Atlanta, which shaped his influential career as an African American artist who dealt with a range of subjects from his upbringing in the south, to jazz and the Caribbean island of St. Martin, to Homer's 'The Odyssey.'"
"Southern Connections" is dedicated to the memory of Richard A. Long (1927-2013) who was Atticus Haygood Professor Emeritus of Interdisciplinary Studies at Emory. As cultural historian, writer, speaker, professor, and colleague, Long served the Emory and Atlanta communities for more than 30 years and significantly advanced the study and understanding of African American culture.
The Michael C. Carlos Museum is located at 571 S. Kilgo Cir. on the Emory campus in Atlanta.
---