AIDS
Emory physicians, scientists, and educators have played a key role in HIV/AIDS from the earliest days of the epidemic. From inventing some of the most successful HIV/AIDS drugs, to developing and testing promising vaccines, to conducting numerous clinical trials of drugs and vaccines, to leading behavioral and prevention research, to treating and counseling thousands of patients, Emory has been a local, national, and international leader.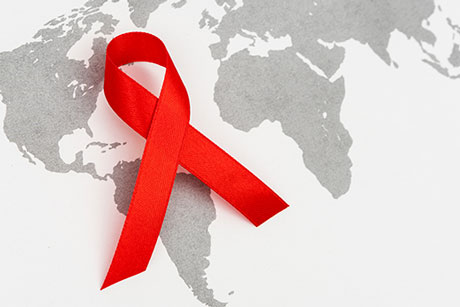 Video »
HVTN 505 HIV Vaccine Clinical Trial: Lessons Learned
Emory researcher Dr. Mark Mulligan discusses results of recent HIV vaccine study and how it aids them in the search for an effective and safe vaccine for HIV. The HVTN 505 clinical trial was designed to test whether an investigational HIV vaccine regimen could protect against HIV/AIDS. The trial began in 2009 and enrolled 2,504 volunteers at 21 sites in 19 U.S. cities.
Standing for Discovery: Dennis Liota
In the late 1980s, Dennis Liotta, Samuel Candler Dobbs Professor of Chemistry, and his team discovered the compound Emtriva. Today this breakthrough drug is used by 94% of HIV-positive patients in the United State