AIDS
Last Modified:
Emory physicians, scientists, and educators have played a key role in HIV/AIDS from the earliest days of the epidemic. From inventing some of the most successful HIV/AIDS drugs, to developing and testing promising vaccines, to conducting numerous clinical trials of drugs and vaccines, to leading behavioral and prevention research, to treating and counseling thousands of patients, Emory has been a local, national, and international leader.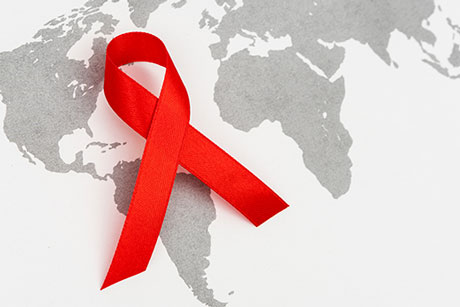 Video »
Ponce de Leon Center - HIV/AIDS Care in Atlanta
Located in Atlanta, Georgia, the Ponce de Leon Center is among the most comprehensive clinics in the United States that are solely dedicated to the treatment of advanced HIV/AIDS. The clinic is part of Grady Health System and many of the doctors, nurses and other specialists are affiliated with Emory University.
Standing for Discovery: Dennis Liota
In the late 1980s, Dennis Liotta, Samuel Candler Dobbs Professor of Chemistry, and his team discovered the compound Emtriva. Today this breakthrough drug is used by 94% of HIV-positive patients in the United State
Recent News »
Dec. 6, 2013
Nov. 25, 2013
Nov. 15, 2013
Aug. 16, 2013
June 27, 2013
June 18, 2013
Dec. 5, 2012
Dec. 4, 2012
Nov. 30, 2012
Nov. 28, 2012
Nov. 27, 2012
Oct. 19, 2012
Oct. 17, 2012
Oct. 12, 2012
Sep. 13, 2012
Aug. 10, 2012
Aug. 2, 2012
July 25, 2012
July 24, 2012
July 24, 2012
July 24, 2012
July 24, 2012
July 24, 2012
July 23, 2012
July 23, 2012
July 23, 2012
July 23, 2012
July 20, 2012
July 17, 2012
July 17, 2012
July 11, 2012
June 27, 2012
June 25, 2012
June 7, 2012
May 18, 2012
May 18, 2012
May 16, 2012
April 24, 2012
April 24, 2012
April 17, 2012
April 4, 2012
Mar. 29, 2012
Mar. 11, 2012
Mar. 8, 2012
Mar. 8, 2012
Mar. 8, 2012
Feb. 6, 2012
Feb. 6, 2012
Jan. 26, 2012
Jan. 18, 2012
Jan. 5, 2012
Dec. 8, 2011