AIDS
Emory physicians, scientists, and educators have played a key role in HIV/AIDS from the earliest days of the epidemic. From inventing some of the most successful HIV/AIDS drugs, to developing and testing promising vaccines, to conducting numerous clinical trials of drugs and vaccines, to leading behavioral and prevention research, to treating and counseling thousands of patients, Emory has been a local, national, and international leader.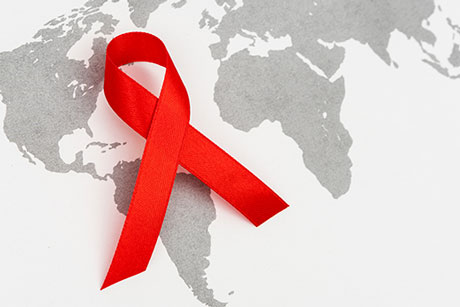 Video »
How Histone Deacetylase Inhibitors Can Potentially Help in Research Focusing on a Cure for HIV
A video where one of the Principal Investigators of the Emory-CDC HIV/AIDS Clinical Trials Unit, Dr. Jeffrey Lennox, is explaining the process by which a class of medication called histone deacetylase inhibitors can potentially help lead to a cure for HIV and how studies conducted worldwide, including at Emory University, are investigating the use of this medication for such purpose.
The Toll of HIV/AIDS on the African American Community
HIV/AIDS has a disproportionate impact on the African American community. In this video Emory's Drenna Waldrop-Valverde, PhD, describes the situation in the United States as well as a new grant that will further research into the field. Waldrop-Valverde is an Associate Professor in the Nell Hodgson Woodruff School of Nursing as well as an investigate with Emory's Center for AIDS Research (CFAR).