The Office of Respect — led by Emily Palmieri, who joined as director in January 2023 — has a sharpened sense of mission and renewed energy that will be on full display when it sponsors RespectCon on the Atlanta campus Oct. 12-13. Paused during the pandemic, this event enhances student understanding of how to care for self and others related to sexual- and relationship-based harm from a prevention and support lens.   
Previously held in spring, this year's RespectCon deliberately is timed during the "Red Zone," the period between when college students arrive on campus through Thanksgiving, given that nationally this is when 50% of sexual assaults are reported.
Conference planners also switched for another reason, says Palmieri: "The start of school is a time of high need, and the fall semester presents a great opportunity for our students to be exposed to this critical information as they come back refreshed from fall break." 
Deepening respect for the office she heads
Since Palmieri's arrival from Wake Forest University, where she served as director of the Safe Office and assistant director for specialized services with the University Counseling Center, she has not shied away from big changes or small. "One of the key principles I follow, at the crux of every decision, is what are all the opportunities we can provide to empower a survivor and give them options and choices," says Palmieri. 
James Raper, Emory's first associate vice president for health, well-being, access and prevention, "realized how underutilized the Office of Respect was," notes Palmieri. That was largely because the staff had previously been mandated reporters, meaning that every student inquiry brought an imposing first question: "Are you comfortable with continuing the conversation?"
With that move away from mandated reporting, Palmieri, a licensed therapist who has engaged in trauma work since 2008, has been able to add three additional staff, two of whom are clinicians, thereby making the Office of Respect a site for confidential clinical care for survivors, which expands Emory's mental health services for students.
Another enhancement is that the office serves students who suffered sexual assault or relationship harm before coming to Emory, an acknowledgment of the reality that those experiences can be the source of present trauma. 
"Often, students who come to us are just starting to grapple with the impacts of past harm. Not all cases reported actually occurred at the university," explains Palmieri. "But we still can play a major role in supporting students through it." 
"We know that one in four female-identified students and one in eight male-identified students experience sexual harm on university campuses, and that data hasn't changed significantly in decades — so I wanted to ensure we invested more in downstream support of those who have experienced harm, and upstream to better engage prevention. Going forward under Dr. Palmieri's leadership, that holistic approach to an important problem is what Emory's Office of Respect represents," says Raper.
A constellation of conversations to better serve the community
An important prelude to RespectCon was the panel discussion, geared toward faculty and staff, on Sept. 28 titled "Approaches and Strategies for Preventing and Addressing Sexual Harassment in Higher Education," featuring Frazier Benya and Ashley Bear, senior program officer and director, respectively, of the Committee on Women in Science, Engineering and Medicine.
On Oct. 12, the opening day of RespectCon, the focus will be on Jennifer S. Hirsch and Shamus Khan, authors of "Sexual Citizens: Sex, Power, and Assault on Campus." Hirsch is professor of sociomedical sciences at the Mailman School of Public Health at Columbia University; Khan is professor of sociology and American studies at Princeton University.
Groundbreaking on many levels, their book shifts the public conversation from its previous axes — predators and what to do about the "he said/she said" that follows assaults. Instead, framing sexual assault as a public health matter, Hirsch and Khan conducted an ethnographic study as part of a much larger project funded by Columbia University.
Hirsch and Khan's argument is that "sexual assault is a predictable consequence of how our society is organized, rather than solely a problem of individual actors." And in the building blocks of that argument — through the concepts "sexual projects," "sexual citizenship" and "sexual geographies" — they have devised a new language for understanding young people's sexual relationships and a roadmap for addressing sexual assault.
Beyond their conference roles, the authors will meet with Emory leadership for what Palmieri describes as an "aspirational conversation" to brainstorm around questions such as "What are things we haven't thought of that Emory can do to enhance the safety for our students and engage our community in this work?"
On Oct. 13, workshops will focus on the following topics: 
Understanding Sexual and Relationship Harm and Title IX

Harassment and Navigating Power Differentials

Sexual Projects and Consent

Trauma-informed Survivor Support

Barriers to Reporting and Cultural Conversations Around Sexual Assault

Why Do I Feel This Way?: Understanding Trauma Responses

Bystander Intervention

Being a Sexual Citizen
The sessions will be facilitated by staff members from the Center for Women, Department of Title IX, Office of Respect, Office of Health Promotion, Student Case Management and Intervention Services, Counseling and Psychological Services and others.
Participants are welcome to access the Office of Respect's survivor lounge during the conference, which will be staffed with counselors/advocates for processing support. The Office of Respect hotline is available 24/7 to serve Emory students and provide consultation to faculty, staff and community members.
Zoe Ferguson 24Ox 26C is co-president of Sexual Assault Peer Advocates (SAPA) on the Oxford campus. "For me and others to be able to bring our perspectives to this event with the full backing of many departments in the university is a cool opportunity for students to see that Emory really cares and has a lot of faculty and staff who are passionate about these topics," she says. 
Her efforts have involved identifying topics for the workshops, communicating about the event to the Oxford community and working with the book club committee that has been holding discussions on "Sexual Citizens."
"OxSAPA is hoping that students are able to come to these workshops/discussions and feel that their eyes are opened, that they can acknowledge thought patterns previously unnoticed and take this understanding back to the community to create change at the most basic level," says Ferguson.  
The momentum will continue
Palmieri arrived here with high expectations for what Emory would do to support students. "I have noted a strong desire to improve by creating sustainable infrastructures and intentional redundancy where we need it. There is a refreshing energy and evidence of cross-campus dialogue. And as we better understand each other's work, we are maximizing resources," she observes. 
Asked how the fruits of RespectCon will carry over into ongoing work, Palmieri is confident that the conference feedback "will shine a light on where the needs are greatest. We might, for instance, offer sessions like these more frequently. If we discover that some of the content is best learned through peers, we will bring in our amazing SAPA," says Palmieri. SAPA is Emory's largest student group and has trained more than 3,000 students.
"There are a number of directions that response from RespectCon could point us," Palmieri continues. "Whatever steps we take, we will do so by being responsive to the ever-changing dynamics of our student body." 
All those interested in participating may register here.
For students who are interested in joining the Sexual Assault Peer Advocates group, contact Divya Pereira or fill out the interest form. 
If you would like to speak with an Office of Respect advocate for support, call the Respect Hotline at 470-270-5360. It is staffed 24/7.
A Q&A with Jennifer Hirsch and Shamus Khan
Q: Many universities seek your help with concrete next steps in addressing the problem of sexual harm; what do you say to them?
Hirsch: Each community is an expert in what they need. Actions, though, fall into two broad buckets. The first entails addressing inequalities on campus. Sexual violence is about power, so comprehensive prevention means creating a more equitable campus. In broad strokes, that means bringing together work on diversity, equity, inclusion and justice with work on sexual-violence prevention. Everyone on a college campus needs to see themselves as a sexual-assault-prevention stakeholder.  
Second, schools should support positive sexuality. That does not mean dictating to students how or with whom they should have sex. But it is the job of the university to build a context in which students can pursue relationships in a way that is safe and doesn't hurt other people. This requires all hands on deck, including working with institutions that shape the precollege environment, because campus sexual violence is not a "campus" problem; it's an "everyone" problem. Campuses see the train wrecks, but they don't build the tracks. 
Khan: We are trying to move away from a logic of compliance to a logic of transformation. We want to be part of helping institutions rethink what they are doing. We deliberately don't provide an off-the-shelf solution to sexual violence. Places like Emory are distinct in their campus culture, where they are located, their histories, the people they have and the expertise they hold. We propose a process rather than a product. We want to be part of meaningful change within the higher education sector.  
Q: What question do students most often pose?
Khan: Students sometimes feel a little hopeless on this issue. They want to know how they can make a difference, how they can keep themselves and those they care for safe. Ours is a message of hope and empathy that takes a public health approach, thinking on multiple levels about the problem — not just the individual at a relationship level but how organizations and broader culture matter. 
Hirsch: We are often asked about adjudication, but a fundamental insight from our work is that this is not a problem we can punish our way out of. We really need to broaden everyone's focus to think about what is the ecology of campus sexual assault and how can we change that ecology? Students have so much energy and passion. We want to direct them to a pathway where they can make a difference.  
Q: Your book has been lauded and the two of you in near-continuous demand on college campuses these past three years. But how do you measure the impact of "Sexual Citizens"?
Hirsch: We have seen concrete impacts and been successful widening the conversation to parents and legislators. We see 'sexual citizenship' invoked now without citing us, which is actually great; it tells us that it is a widely understood concept helping to shape the way people think about the problem.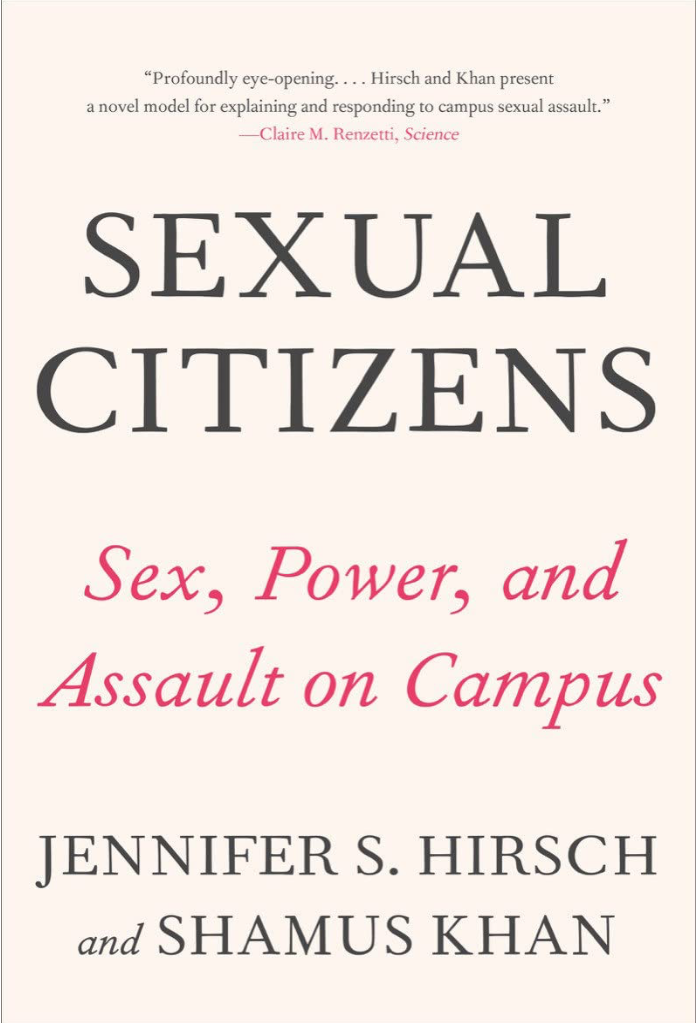 ---