Main content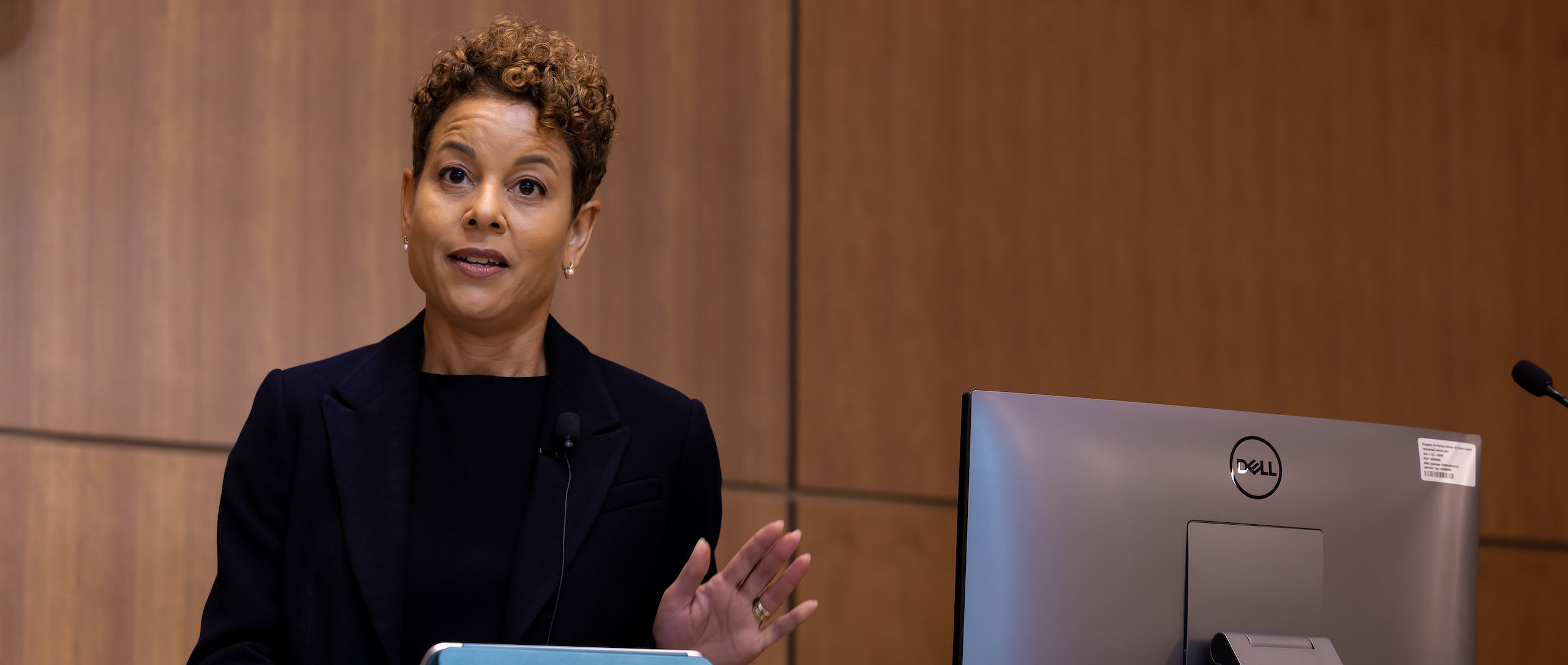 Diversity Week celebrates Emory's tapestry of difference while calling us to 'get proximate to the work'
By Susan M. Carini 04G
Nov. 8, 2023
If you made the rounds of Emory's second-annual Diversity Week events, you more than got in your steps.
The range of choices offered serious topics and serious fun, with everything from a symposium on "Social Movements and the Politics of Law" to Bollywood Zumba, Sukkot pickling and a drag show. All told, the Office of Diversity, Equity, and Inclusion and its partners welcomed the community to more than 30 events.
As Carol Henderson — vice provost for diversity and inclusion, chief diversity officer and adviser to the president — reflected, "Diversity Week should be a reminder to us all to get proximate to the work. You can't do it from the sidelines. Each of us has a responsibility to be ambassadors of the common good and stewards of our educational mission."
Hearing from a wise counselor
For the more than 70 participants online and those who came in person to the keynote address on Oct. 2, delivered by Traevena Byrd of American University, it was their first chance to see how the theme, "A Commitment to One Emory: Accountability in the Face of Change," would be realized. 
As Henderson looked to the week ahead, she said: "May we absorb with all our senses the gift that is Emory. Not 'perfect Emory,' but the Emory we aspire to be as we hold ourselves accountable for embodying the principles and tenets of One Emory. As One Emory, we honor each other in a community of care as we work to be more inclusive." 
President Gregory L. Fenves noted Byrd's title, "Dissent from Hopelessness: Taking a Stand from Where You Sit," and its recognition of the leader in all of us, and he further noted: "At its heart, education is about building hope. It is about understanding who we are, where we came from, our histories and what our goals and visions are for the future."
Leading from where we sit
Byrd — vice president, general counsel and board secretary at American University — started her address by moving backward in time to 2014, when she was associate general counsel at Ithaca College.
She described one afternoon, early in the semester, "listening to the usual conversations about enrollment and other matters." The killing of Michael Brown, an unarmed Black teenager, by a white police officer in Ferguson, Missouri, had occurred just weeks before.
"None of this," Byrd reflected, "was mentioned in the meeting. The reality, though, is that people all over the country were associating what happened in Ferguson with their lived experience." 
For a time, Byrd wrestled with how to express this side of herself in a work context.
Ultimately, drawing lessons from the career of Supreme Court Justice Thurgood Marshall, she concluded: "For me and Justice Marshall, our racial identities were not left at the door. My personal background is one of my strengths because it helps my colleagues consider options they hadn't thought of."
"In 2014, I wasn't sure what my role should be with regard to some of the issues that my colleagues weren't talking about. Nearly 10 years on, I see things more confidently and clearly. Lead from where you sit. Do not be discouraged by setbacks. Remain hopeful, recognizing that hope is a foundational premise for education," Byrd added.
The healing power of circles
With Diversity Week events extending through Oct. 6, another notable opportunity was to learn from Sharon Stroye, Emory's inaugural director of truth, racial healing and transformation, about the framework she is pursing.
As she began her remarks about the truth, racial healing and transformation (THRT) model, Stroye read from what she called a Life Acknowledgment: "We gather here today to acknowledge that every human being, regardless of ethnicity, class, gender, sexual orientation, religious belief, political ideology, social/economic status, residential community, physical/mental ability and/or any other unique characteristics has the ability to grow, reproduce, change and function in an optimal environment before death."
Stroye then displayed a photograph of herself and asked the simple question: "What do you see?" The responses only touched the surface, which was exactly her point. "When we meet people, this is what we see: the exterior," Stroye explained. 
She then posted a fulsome list of her identities: person of faith, wife, mother of three adult children, grandmother of two, one of three sisters, caretaker of her 86-year-old mother, daughter of a father who died from pancreatic cancer, professional with an MBA and a 30-year career in higher education, first generation in her family to go to college and African American.
"All of you have a list similar to this," Stroye noted, and then asked: "What is one thing you have in common with my list?" Responses this time were much more numerous. Something clicked. 
"This is just an example of what this work, THRT, really does. It meets people where they are. As leaders and decision-makers, making the environment welcoming and inclusive begins with you," she said.
The what and why of THRT
In 2016, TRHT emerged as an approach to racial-equity work that connects healing with systemic transformation. Launched by the W. K. Kellogg Foundation, TRHT was designed in partnership with hundreds of leaders, scholars and organizations. Its foundational pillars are narrative change, or truth-telling, and racial healing and relationship building, which arise out of establishing trust and a recognized, shared humanity. 
Universities were the first sites for this work. As Stroye explains, "College and universities were established for white, male, elite landowners. The purpose of THRT work is to dismantle this fallacy of believing in a hierarchy of human value." Currently, there are 71 THRT campus centers across the country. Before her arrival here, Stroye was the founding director of the Truth, Racial Healing and Transformation Center at Rutgers University-Newark. 
Having led more than 200 racial-healing circles, Stroye looks forward to introducing them here, saying: "Each campus defines for itself what a racial-healing circle is. At their essence, they are an opportunity for people of diverse backgrounds to come together and connect their lived experiences through storytelling. It is a safe, brave and responsible space and place where people recognize they have more in common than they are different."
The racial-healing circles will be available at the departmental level and can be customized based on that unit's goals. In addition, Stroye is planning an in-person racial-healing circle in Room 310 of the new Interfaith Center on Thursday, Nov. 9, from 1-2:30 p.m.; registration is required. There also will be a Thursday, Dec. 7, virtual racial-healing circle from 1-2:30 p.m.; registration is required. Further programming will be announced to coincide with the National Day of Racial Healing on Jan. 16, 2024.
As exciting as it will be to explore this new tool, Stroye believes it critical to set expectations, saying, "Realizing THRT at Emory will not be an overnight checklist; it is a forever endeavor."
Evidence of progress
Diversity Week built on momentum that Emory has achieved in this space, including participation in the National Assessment of Collegiate Campus Climates Survey (NACCC). The NACCC survey was developed based on more than a decade of research by the University of Southern California Race and Equity Center about race-related incidents on college campuses.
The questions aimed to elicit perspectives from students on ways they experience the campus racial climate. For the undergraduate student results, NACCC assigns each university a peer data set to which they are compared based on campus demographics. 
Emory was part of a pilot group of schools to solicit graduate student feedback from the NACCC survey; therefore, there was no peer data set for this group. Similarly, Emory was part of a pilot group of universities to use the NACCC survey to seek feedback from faculty and staff.
And, for the second year in a row and the third time overall, Emory won the Higher Education Excellence in Diversity (HEED) Award, which "recognizes colleges and universities that demonstrate an outstanding commitment to diversity and inclusion." The HEED Awards and the Health Professions HEED Awards are the only national honors recognizing U.S. colleges and universities that demonstrate an outstanding commitment to creating a diverse and inclusive campus environment.
"The HEED Award selection process is rigorous, assessing the recruitment and retention of students and faculty, pathway programs, community partnerships, leadership support for DEI initiatives and a comprehensive list of other considerations," says Lenore Pearlstein, publisher. "The winning institutions consistently demonstrate best practices and set the standards for other colleges and universities."
Stepping up
Sheryl Heron, professor of emergency medicine, serves as vice chair of faculty equity, engagement and empowerment for the Department of Emergency Medicine and associate dean for community engagement, equity and inclusion at the Emory University School of Medicine.
A participant in three of the events, she commented, "This week, which dovetailed nicely with the School of Medicine's Diversity and Inclusion Week in May, was an incredible opportunity to align and synergize to create a more inclusive Emory." 
Dawn Hutchinson, senior director of communications for Business Operations, appreciated "Emory's unwavering commitment to Diversity Week and the many resources dedicated to fostering inclusion and understanding within our community. Attending the events — including the keynote lecture and the Supplier Diversity Fair, which provided more than 20 vendors an opportunity to connect with Emory — alongside faculty, staff and students felt like a powerful display of togetherness."
For Nicole Ingram, director of programs and special initiatives in the Office of Diversity, Equity, and Inclusion, who weaved small events and large into a representative whole, the calendaring was the hard part; the easy part was the range of choice. "The depth of this year's programs highlighted the transformative work taking place at Emory," she noted. "My hope is that the week just concluded will deepen our commitment to diversity, equity and inclusion and motivate us to be courageous in our thought and action."
Diversity Week was, yes, about steps, in this sense: "We are in this journey together," Henderson said.
Photos by Sarah Woods, Emory Photo/Video, student photographer Selma Hassan and Antonio Weaver Photography.
---