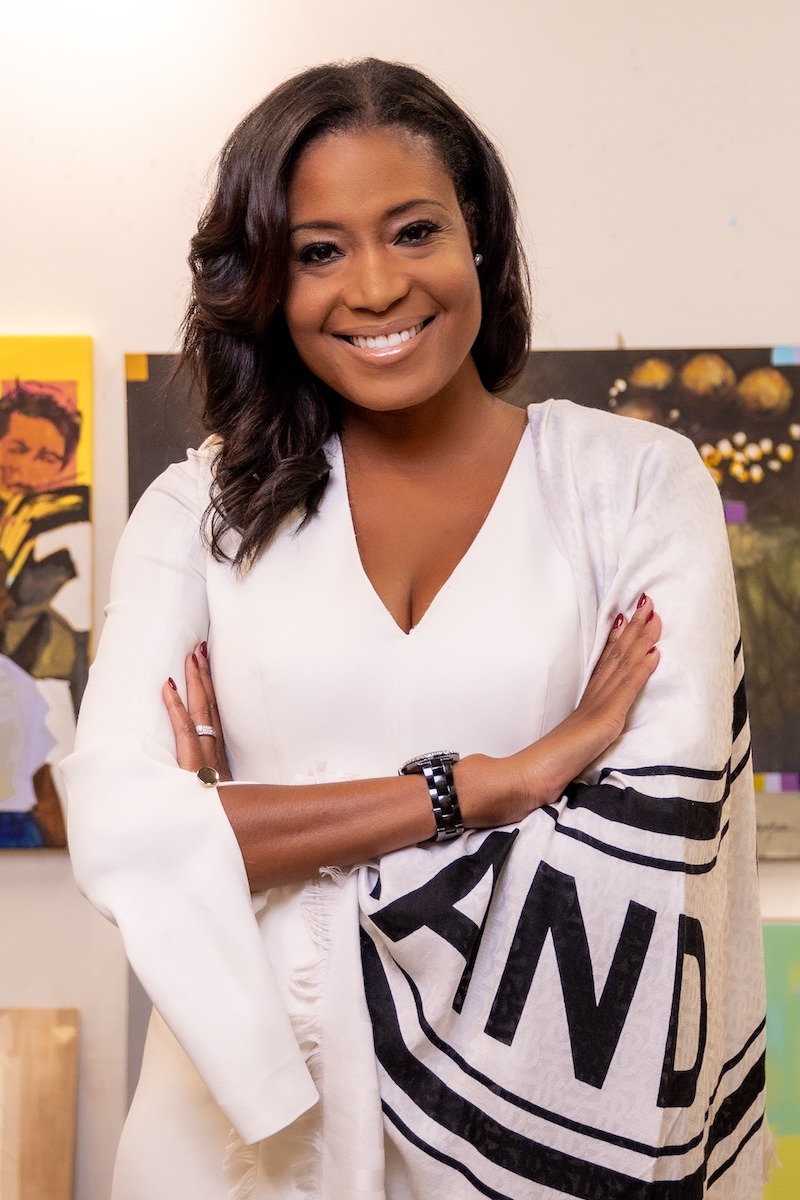 Karida Brown loves the shock on students' faces when she drops "back when I worked on Wall Street" and "with my time with the Lakers" in class.
It's true that Brown, who started last fall as a professor of sociology in Emory College of Arts and Sciences, has led many professional lives. Look closely, though, and it becomes clear each career shift led to her becoming a leading scholar in the relationship between race, history and social transformation.
"Working as an excess casualty underwriter helped me practice the skills of project management and taking risks," Brown says of her five years in the insurance industry. "When it became an irreconcilable moral issue for me, seeing my industry play such a significant role in the financial crisis, I was able to take a risk on using my superpowers for something that was good for the world."
Since earning her PhD from Brown University seven years ago, Brown has applied her talents to author two books, serve on the board of the Obama Presidency Oral History Project and, yes, serve as the inaugural director of racial equity and action for the Los Angeles Lakers.
She is among several renowned scholars who have joined Emory faculty in recent years, before Emory launches an interdisciplinary PhD program in African American Studies in fall 2023.
"Our sociology department is not big on being insulated and is especially interested in how sociology fits with other scholarship," says Tim Dowd, a professor and chair of the Department of Sociology. "Karida has a command of archival research that is unmatched in the field and is able to take her findings to create new archives for other scholars to draw upon. We are very fortunate to have her join us."
Challenging narratives and changing research design
Brown completed a master's degree in public administration at the University of Pennsylvania as her first step in transitioning from corporate life to research. The program proved a runway to sociology, the discipline that most excited her as she researched doctoral programs.
Specifically, she was drawn to W.E.B. DuBois, the famed sociologist who coined the term "twoness" to describe the warring inner lives unique to African Americans used to seeing themselves through the eyes of the dominant, and white, culture. 
"I wanted to immerse myself into a life of the mind, and here I was at this elite institution during graduate school, feeling my class and my race in ways I had never felt in a professional setting," Brown says. "DuBois lit a fire in me that I had found my place."
It also gave her the courage to shift her research gaze. Brown had originally intended to focus her doctoral research on something she witnessed in business: the generational gap between Baby Boomers staying longer in white-collar work and the Millennials and Gen Zers competing for those jobs.
Instead, her new project examined the lives and experiences of Black families in Appalachian coal towns during the Great Migration period of 1910 to 1970, applying both oral history and archival research methodologies and conducting 153 in-person interviews with African Americans from the eastern Kentucky home of her grandparents.
Brown's resulting dissertation challenged prevailing narratives of Appalachia as a mostly poor, white region and highlighted how Black families drew upon generations of resilience when mines shut down. The work became the basis of her first book, "Gone Home: Race and Roots through Appalachia,"in 2018.
By then, she was an assistant sociology professor at UCLA and working on her second book, "The Sociology of W.E.B. DuBois," co-authored with the chair of her dissertation committee, José Itzigsohn.
"The intellectual pursuit excites the scholar in me, but it is equally exciting as a risk manager to figure out how to approach the research design," Brown says. "Every experience I've had has informed the next."
Hands-on with student researchers
It was learning about research participants' experiences in segregated schools that led Brown to her next project: trying to understand the moral aims of the separate and unequal system and its legacies in our era of diversity and inclusion.
She won the coveted Fulbright Global Scholar Award for expanding that question globally, looking at segregated systems throughout Africa and Australia.
Brown was excited that students engaged deeply in the topic (the focus of a book in progress) when she included some of her findings in the Race and Ethnic Relations course last fall. 
Seeing students in her Sports and Society course equally invested in learning the reach and breadth that the institution plays in our culture cemented her decision to take on undergraduate researchers on her many projects.
This spring, she is working one-on-one with six undergraduates, all students from her courses last fall, as part of the sociology department's research apprentice program. Projects include helping with data analysis on Brown's race and education book and conducting archival and oral research for the Obama Library. 
Brown also is working with an undergraduate researcher as she begins the historical research for a biography of Shirley Graham DuBois and works through the massive Slave Voyages database for an examination of the slave trade from Cape Verde to the Iberian Empire.
"The students at Emory are awesome," Brown says. "They surprise me as much as I surprise them because they really engage. I have a lot of work to do, and I find it to be very intellectually generative when I am able to be so hands-on with students and my colleagues."
---