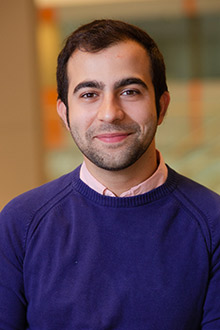 Alisina Bazrafshan began his journey with Laney Graduate School in 2016 after having studied at Sharif University of Technology in Tehran, Iran. He will graduate from Emory with a PhD in chemistry, leaving faculty and students with fond memories of a natural mentor.
Laney Graduate School is recognizing Bazrafshan's work and impact in that regard by naming him the 2021 Eleanor Main Student Mentor Award recipient. Named in honor of the late  Eleanor Main, a transformative leader at Emory and a devoted advocate for graduate education, the award recognizes individuals who exemplify mentoring of the highest quality in graduate education.
Shortly after arriving at Emory in 2016, Bazrafshan joined the Student Education Experience Development (SEED) program. Through it, Bazrafshan led multiple successful initiatives to promote the significance of higher education to Atlanta High School students with a focus on refugee high schoolers in the Atlanta region. From 2017 to 2019, he served as president of the SEED Program, increasing his impact within the Emory community and locally.
During his presidency, Bazrafshan organized academic and professional development experiences for high school students interested in STEM that included campus visits, research workshops and financial planning seminars. During his time at Emory, he continued his work with the SEED program, most recently as vice president.
Bazrafshan leveraged his expertise to develop the academic and professional proficiency of Emory undergraduate students in the laboratory. Undergraduate chemistry students and SEED members Ambika Natarajan and Muhammad Mukarram wrote a letter expressing their gratitude for his mentorship.
"Countless times we witnessed him sacrificing his time and energy in order to achieve the goals of our organization," they wrote in a joint statement. "His enthusiasm and enjoyment of research led us both to pursue research as undergraduate students at Emory, and he was also supportive and encouraging when we encountered unexpected challenges in our respective projects."
As Bazrafshan's reputation as a well-respected mentor developed among his peers, faculty began to take notice.
"Alisina already came to the PhD program with the mentoring 'bug,'" says Khalid Salaita, associate professor of chemistry and program faculty for the Wallace H. Coulter Department of Biomedical Enginnering. "In fact, I've heard wonderful stories of how Alisina mentored and tutored other students in Iran as a college student himself."
Bazrafshan's research at Emory included working in Salaita's lab. Bazrafshan investigated the design principles of fast and processive synthetic DNA motors, elucidated the growth mechanism of 2D peptide nanosheets and visualized cellular forces with high spatial resolution in the lab.
Salaita says of the Eleanor Main Student Mentor Award, "I cannot imagine a more deserving student for this recognition. Alisina sets the bar very high."
After graduation, Bazrafshan will take his post as a Howard Hughes Medical Institute Postdoctoral Associate at Cornell University. 
---