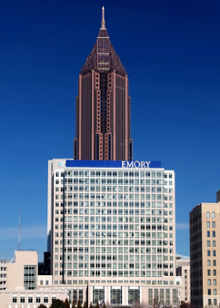 ATLANTA – Emory University Hospital Midtown has been designated a Level I Emergency Cardiac Care Center, Georgia's highest level of emergency cardiac care, by the Georgia Department of Public Health (DPH), Office of EMS and Trauma. Emory University Hospital Midtown is the second Emory hospital in the metro Atlanta area to receive this designation, with Emory Saint Joseph's Hospital being the other.
"We are pleased to receive this Level I Emergency Cardiac Care Center designation from Georgia DPH to let our patients and our community know we stand ready to provide the highest level of cardiac care to those who come through our doors," says Chandan Devireddy, MD, assistant professor of medicine, Division of Cardiology, Emory University School of Medicine and medical director of the Emergency Cardiac Care Center at Emory University Hospital Midtown.
"Even during the COVID-19 pandemic, we have continued to provide excellent cardiac care to patients, and we felt it was important, now more than ever, to prioritize this effort to become an Emergency Cardiac Care Center. To have obtained this designation during February, which is American Heart Month, makes it even better," Devireddy says.
To receive the Level I designation, a hospital must provide the highest level and most comprehensive emergency cardiac care services 24/7, 365 days a year. Those emergency services include cardiac catheterization and angioplasty to treat patients suffering from a heart attack, as well as advanced cardiothoracic surgery capabilities and abilities to perform other surgical procedures, such as implanting automatic cardioverter defibrillators and percutaneous left ventricular assist devices. 
"To achieve a Level I designation, an organization must meet nearly 80 requirements to demonstrate a hospital's ability to provide excellent cardiac care, from hospital arrival to discharge," says Cecilia Mortorano, MSN, RN, nursing director of cardiology services at Emory University Hospital Midtown and program manager for the Emergency Cardiac Care Center at the hospital.
"Every team that cares for the patient during the continuum of emergency cardiac care, including EMS, emergency services, the cardiac cath lab, the cardiac intensive care unit, the cardiac telemetry floor and all of the services that support these areas, had a hand in our successful designation."
In 2017, legislation was signed into Georgia law to establish the Office of Cardiac Care within the Georgia DPH with a mission of improving survival rates from out-of-hospital cardiac arrests and heart attacks, supported by the standardized data collection and reporting system of a cardiac registry. The three-level designation system for Emergency Cardiac Care Centers was then established to help identify a hospital's capability of providing emergency cardiac care services.
This legislation strengthens Georgia's Emergency Medical Services system by making it easier to determine the types of cardiac care that are offered at each hospital and to help appropriately triage patients based on the severity of their condition.
"Emory University Hospital Midtown is known as a leader in cardiac care and is home to the Carlyle Fraser Heart Center," says Daniel Owens, CEO of Emory University Hospital Midtown. "We are very proud of our teams for achieving this important Emergency Cardiac Care Center designation and are prepared to support our community with all of its cardiac care needs."
---