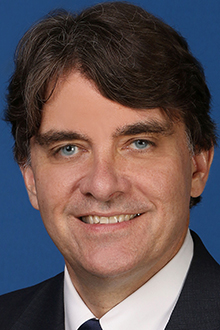 Emory President Claire E. Sterk has announced that Paul Marthers, vice provost for enrollment management, has been appointed to serve as interim vice president of Campus Life, as Ajay Nair, senior vice president and dean of Campus Life, transitions to his new position as president of Arcadia University on March 31. During the month of March 2018, Nair and Marthers will work together to allow for a strong transition of the campus life leadership. 
Marthers, who will continue in his enrollment management role, will report to Dwight A. McBride, provost and executive vice president for academic affairs, and will join the President's Leadership Team while serving in the interim capacity.
"Dean Nair has been a transformational leader for our Emory students and for our entire community," says Sterk.  "Under his guidance, Campus Life evolved into a dynamic and thriving organization, one that enabled students to claim their own voices and to seek common ground on difficult issues. I want to thank him for everything he has given to our students — and for the many ways he helped us all become more effective and compassionate participants in our shared mission. He will be greatly missed."
Emory's Division of Campus Life is recognized internationally for delivering world-class programs and services and building a campus culture that reflects Emory's values. Its mission is to enhance the overall student experience and develop students who are compassionate, conscientious, healthy and active global citizens.
"I look forward — as does the entire Campus Life team — to working with Dr. Marthers in  implementing a smooth transition and a bright future with the Campus Life team," says Nair. "We have built an innovative and energetic team that is dedicated to Emory and its students."
 "Dr. Nair and his team have made an incredible difference at Emory," says Marthers. "The groundbreaking and ambitious work accomplished by our Campus Life colleagues is emulated by colleges and universities around the world. I look forward to working throughout the search process with Provost McBride in supporting and advancing this team and its work to create for Emory an unsurpassed student experience."
Marthers joined Emory last year from The State University of New York System Administration where he served as associate vice chancellor for enrollment management and student success and was the chief enrollment and student affairs officer for the SUNY system.  At Emory he leads enrollment and retention efforts of the university's four undergraduate schools and co-leads the current Emory Undergraduate Experience Initiative. As vice provost for enrollment management, the Office of Undergraduate Admissions, the Office of Financial Aid, the Office of the University Registrar, the Student Information System team, and the Director of Projects for the Emory Undergraduate Experience Initiative all report to Marthers. A first-generation college graduate of Oberlin, Marthers holds master's degrees from Boston University and Reed College and an EdD from the University of Pennsylvania.
A search process, which will ensure that students are represented on the Search Advisory Committee, will be initiated before the end of the semester.
---