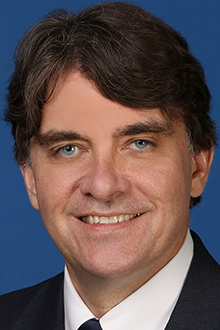 Paul P. Marthers has been named vice provost for enrollment management at Emory University, a new position, in which he will lead enrollment and retention efforts of the university's four undergraduate schools and play a key role in forming, implementing and executing the creation of a transformative Emory student experience.
"I am thrilled with Paul's appointment. He brings a wealth of experience in enrollment management from a variety of different colleges and universities. He understands the incredibly exciting upward trajectory Emory is on to create an even richer and more holistic approach to the undergraduate experience at Emory. And he joins a team of deans and colleagues in the Office of the Provost who are ready to support his leadership in this critically important area for Emory's future," says Dwight A. McBride, Emory's newly appointed provost and executive vice president for academic affairs, who will begin his role at Emory July 1.
"I am very excited to join the leadership team at Emory, and I look forward to serving one of the world's truly great universities," says Marthers. "The fact that Emory is centrally focused on offering a student experience that is second to none is a big part of what attracted me to the university and this position."
Marthers comes to Emory from The State University of New York System Administration, where he served since 2014 as associate vice chancellor for enrollment management and student success, and was the chief enrollment and student affairs officer for the SUNY system. 
From 2009–14, Marthers was vice president for enrollment at Rensselaer Polytechnic Institute in Troy, NY, where he led the undergraduate admissions, graduate admissions, enrollment operations and financial aid offices. He served as dean of admission at Reed College in Portland, OR, from 2002–09, and senior associate director and director of admissions at Oberlin College from 1998–2001.
In 2007, The Chronicle of Higher Education named Marthers one of "10 Admission Deans who are Shaping Their Field."
His more than 20 articles and book chapters have appeared in publications such as American Educational History Journal, History of Education Quarterly, The Journal of College Admission, The Journal of Higher Education Outreach and Engagement, and in the book, "Leadership Lessons: Vision and Values for a New Generation." He also is the author of a book on the history of women's colleges, "Eighth Sister No More."
A first-generation college graduate, Marthers holds an undergraduate degree from Oberlin College, master's degrees from Boston University and Reed College, and an EdD from the University of Pennsylvania.
Emory's search consultant was Neumann Executive Search. 
---