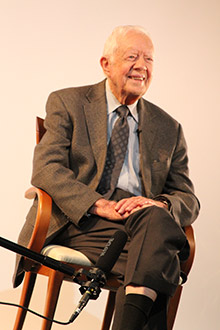 "When you make a mistake — even if it takes a lot of courage — to admit the mistake is better for you in the long run." 
Jimmy Carter, 39th president of the United States and Emory University Distinguished Professor, delivered this advice to a team of Emory students conducting an on-camera interview of the 93-year-old statesman earlier this month. 
The students, members of film and media studies lecturer Rob Barracano's Film Practicum class, filmed Carter's thoughts on topics including the battle over truth in reporting, social media's influence on the current political climate and the real-world implications of the Biblical call to "love thy neighbor." 
The Carter interview, conducted Oct. 11, will be part of a larger project Barracano's class has created to respond to divisions in the country following the presidential election. A collection of filmed meditations on love and acceptance entitled the "Love Your Neighbor Project" will eventually be published on its own website.
Carter, who still teaches a regular Sunday school course at the Maranatha Baptist Church in Plains, Georgia, was a natural fit for the project.
"I think that having a voice of authority speaking to young minds is super important," says Emory College senior Urmi Chatterjee, a student in the class and head producer of the Carter interview. "Especially talking about loving thy neighbor when there's so much hate going on. I loved what he said about how it doesn't matter what religion you're from or what you believe, Jesus teaches [that we are] to love everyone." 
The class also probed Carter with questions addressing the media's role in our democratic system and the phenomenon of "fake news." 
"I think during the time I was president the media was much more united in trying to tell the truth," Carter said. "There's no doubt that in a democracy, the truth does matter. The success of democratic principles is dependent to a great degree to the access the majority of the people have to the facts as they pertain to a certain issue."
"The assassinations of Martin Luther King Jr., John F. Kennedy and Robert Kennedy happened just before I ran, so people were looking for the truth," Carter went on to explain. "As far as I know, when I was in office, I never told a lie."
Carter surprised students with his knowledge of social media and his assertion that if platforms such as Twitter and Facebook had been available to him during his political career, he would have used them "to the best of [his] ability." 
"I didn't expect him to know so much about memes," laughed Chatterjee.
When asked what advice he had for young people beginning careers in media creation, Carter came back to the need for honesty: "It's better in the long term to tell the truth and to be accurate in reporting."
---