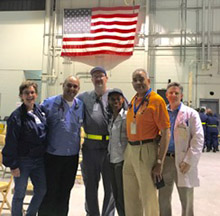 Emergency medicine physicians from Emory University School of Medicine answered an urgent call last weekend from federal officials asking for assistance with a humanitarian relief effort for individuals in the Caribbean affected by Hurricane Maria.
On Sunday, Sept. 24, U.S. officials air-transported more than 67 patients and family caregivers (nearly120 people) from St. Croix and neighboring islands in the U.S. Virgin Islands to Dobbins Air Reserve Base for urgent medical evaluation.
Eight Emory emergency medicine faculty/physicians volunteered to meet the plane at Dobbins on Sunday evening and conduct rapid triage to determine which patients required immediate medical attention. Most of the patients had dialysis-requiring end-stage renal disease, and there were significant concerns that they had received inadequate dialysis in the preceding days, which could lead to life-threatening complications. The regional CMS End Stage Renal Disease (ESRD) Network was activated, and regional director John Doran, MD, Emory assistant professor of medicine (nephrology) was on site at Dobbins all day.
The planes, which were scheduled to arrive at 1:30 p.m., finally arrived after 10 p.m. Sunday night, with the third and final plane landing at nearly 1 a.m. Monday morning. All patients were triaged by 2:15 a.m. In addition to the patients with end-stage renal disease, other complex co-existing conditions were discovered, including diabetes, hypertension, pre-term labor and recent trauma. EMS transported five patients to local hospitals.
"The patients and family caregivers were exhausted from the recent hurricane disaster and travel, but so kind and grateful for the assistance," says Kate Heilpern, MD, Pete and Ada Lee Correll Professor and Chair of Emergency Medicine. "I have been practicing emergency medicine for more than 25 years, and the opportunity to provide timely medical assistance for these patients and families is a hallmark of my career. I know it was as impactful for all the physicians and nurses who supported this humanitarian response. I am very proud of our providers and our institution."
Other agencies on site included a team of experienced Atlanta Veterans Affairs Medical Center nurses, the Red Cross, FEMA and US Air Force personnel. 
Emory Emergency Medicine faculty who volunteered for the hurricane relief effort were Hany Atallah, MD, Kate Heilpern, MD, Sheryl Heron, MD, Julio Lairet, MD, Brooks Moore, MD, Kathleen O'Donnell, MD, Tammie Quest, MD, and Arthur Yancey, MD.
---