A new cardiac catheterization lab is open to patients at Emory Johns Creek Hospital (EJCH). The suite features advanced technology including sharper image quality and a low dose radiation exposure to patients and staff.
"Our new cardiac catheterization lab will provide physicians access to innovative software and will help us deliver the highest quality care to treat patients with cardiovascular disease," says Gregory Robertson, MD, chief of cardiology at Emory Heart and Vascular Center in Johns Creek, and associate professor of medicine, Emory University School of Medicine.
The new lab is one of two at EJCH and showcases the latest cardiovascular technology including Phillips Allura Xper FD20 digital imaging x-ray system. The system's resolution is four times greater than traditional x-ray's, providing physicians better visualization when performing procedures.
"The advanced technology allows physicians to better diagnose blockages and place stents," says Diego Sigala, RN, director of the Cardiac Catheterization Lab. "The image guided therapy helps doctors see more clearly when they are inserting stents into the arteries and shortens the procedure time."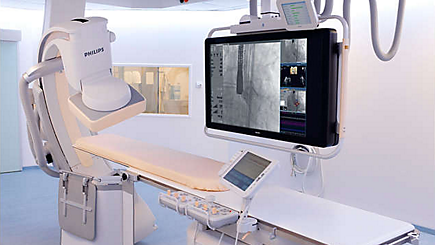 Phillips Allura Xper FD20 digital imaging x-ray system
Image courtesy Phillips
The hospital's cardiac catheterization labs provide on average less than 60-minute door-to-balloon times, far below the national goal of 90 minutes, for severe heart attacks. EJCH is a certified Chest Pain Center with PCI (Percutaneous Coronary Intervention) designation, and has been awarded the American Heart Association Mission: Lifeline Gold Recognition award for achieving high standards in STEMI (ST-segment elevation myocardial infarction) heart attack care.
This recognition acknowledges the hospital's commitment to ensuring that STEMI patients receive treatment according to nationally accepted standards and recommendations.
For more information visit www.emoryhealthcare.org/johnscreek or call, 678-474-8200 to make an appointment.
 
---