Emory Healthcare is expanding services to Jonesboro and the surrounding communities with the recent acquisition of the Spivey Station Surgical Center, formerly owned and operated by Southern Regional Health System, then Prime Healthcare.
The new location for Emory, called Emory at Spivey Station, will open on Oct. 2 at 7813 Spivey Station Blvd. in Jonesboro, Ga. The 24,000-square-foot facility offers surgical and non-surgical services in orthopaedics, spine care, sports medicine and gastroenterology.
Emory at Spivey Station, located in Clayton County adjacent to both Henry and Fayette Counties, means local patients can undergo outpatient surgical procedures without leaving their community.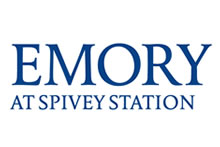 "Emory Healthcare Network has numerous primary care practices in surrounding counties near Emory at Spivey Station, and the geographic location is right to support those practices by providing outpatient surgical services closer to home for our patients," says Ira Horowitz, MD, interim director of Emory Clinic and interim Physician Group President for Emory Healthcare. "Additional services and physicians are expected to be added to meet the growing demand."
The outpatient surgery facility has three operating rooms, four procedure rooms and 24 pre-op and post-op bays for surgery preparation and recovery.
Emory employed physicians will provide services at the facility, with a plan to bring on community physicians in the future. Existing employees at Spivey Station are now employed by Emory. As patient volume builds at the new Emory Clinic-owned surgical facility, recruitment for new positions will take place.
To learn more about Emory at Spivey Station, visit: emoryhealthcare.org/spiveystation.
---