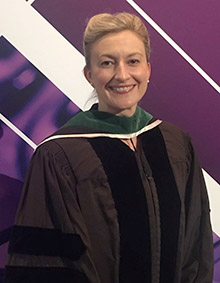 Emory Healthcare physician assistant (PA) Amy Simone, PA-C, has been elected to serve as president of the Association of Physician Assistants in Cardiology (APAC), a professional organization for PAs who practice in cardiology. 
Simone, who will take office in June, works in the Department of Cardiothoracic Surgery at Emory University Hospital Midtown, serving as the coordinator of the Structural Heart and Valve Program.
In her role with APAC, a specialty organization of the American Academy of Physician Assistants, Simone will work closely with the American College of Cardiology (ACC) and other national organizations to promote and advocate for increased utilization of PAs to provide high quality, cost-effective care to patients with cardiovascular disease.
Simone has served on the Board of Directors of APAC since 2014. She participated in Curriculum Design and Annual Scientific Session planning for the ACC and has co-authored 15 peer-reviewed publications.
Simone began her career as a PA in Boston in 2006 and joined the Emory staff in 2011. She graduated from Oglethorpe University with a Bachelor of Science and received both Bachelor's and Master's degrees from the Massachusetts College of Pharmacy and Health Sciences. From 1999 to 2002, Simone was an Oak Ridge Institute for Science and Education Research Fellow at the Centers for Disease Control and Prevention. 
---