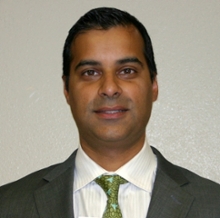 An advanced heart failure clinic is now open to patients at Emory Healthcare Heart & Vascular Center in Johns Creek. Anand Shah, MD, Emory Healthcare cardiologist, is board certified in heart failure, heart rhythm disorders and adult cardiology. He also served 11 years in the U.S. Air Force Medical Corps and retired as a major.
Shah specializes in creating individualized treatment plans for patients with all types of heart failure including cardiomyopathy and ischemic heart failure and refractory heart failure with normal ejection fraction.
"We're confident that Dr. Shah will successfully advance Emory's interdisciplinary clinical and academic initiatives and offer top-notch care to patients with advanced heart failure in Johns Creek and surrounding communities," says Andrew L. Smith, MD, Director of Heart Failure and Transplantation at Emory Healthcare.
Patients will have access to personalized consultation, diagnostic testing, medical and lifestyle management, and surgical procedures at the Johns Creek clinic.
Emory Healthcare's Heart & Vascular Center is consistently recognized by U.S. News & World Report as one of the top heart health centers in the nation. The Emory Healthcare network includes more than 20 heart and vascular clinics throughout Georgia.
Emory Heart and Vascular Center at Johns Creek is located at 6335 Hospital Parkway, Suite 110 in Physician's Plaza at Emory Johns Creek Hospital. The center is open 8 a.m. – 5 p.m. Monday through Friday.
To make an appointment, call 404-778-8240.
---