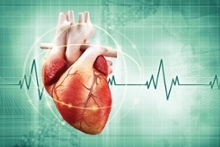 Heart disease is the leading cause of death for both men and women, claiming the lives of more than 600,000 Americans each year. Emory Healthcare is inviting people to participate in several heart-related activities during February's American Heart Month to help raise awareness surrounding this common disease.
Emory Women's Heart Center
The Emory Women's Heart Center is hosting several educational events where participants can meet physicians and care team members, learn how to prevent heart disease and find out about personal risk potential. The event will also feature a vendor expo with demonstrations of products and services. Healthy refreshments will be provided. Event locations include:
Emory Saint Joseph's Hospital, Friday, Feb. 3, 8 a.m. – 1 p.m 
Emory University Hospital, Friday, Feb. 10, 7:30 a.m. – 1 p.m.         
Emory University Hospital Midtown, Friday, May 12, 7:30 a.m. – 1 p.m
On-line Web Chats
Emory Healthcare cardiologist Alexis Cutchins, MD will host a live web chat on Feb. 14 from 12-1 p.m. EST to discuss heart disease among women. She will be available to answer questions regarding topics such as: challenges women face specific to heart disease, heart disease prevention, the importance of getting treatment right away and the research underway to combat heart disease in women.
Please click here to register for the web chat.  
Ladies' Night Out at Emory Johns Creek Hospital
Emory Johns Creek Hospital will host its annual Ladies' Night Out event devoted to women's health on Thursday, Feb. 23 from 6 to 8:30 p.m.
Free health screenings will be offered and clinicians will be on hand to educate women about breast health, cardiovascular disease and signs of stroke and heart attacks. The event will also feature an expert panel discussion about trends in women's health at 6 p.m. Doors will open to the Ladies' Night Out event at 6:30 p.m. For more information, please call 678-474-8017. To RSVP for Ladies' Night Out, please click here.
Emory Women's Heart Center 10,000 Women Screening Initiative
Through a cardiovascular screening program called 10,000 Women, the Emory Women's Heart Center hopes to improve the heart health of African-American women in Metro Atlanta. Both screening participants and volunteers are needed to help with this important project. To host a screening or volunteer for an upcoming event, please click here.
For more information on heart screenings and educational activities throughout the year, please follow Emory Healthcare on Facebook. 
---