One year ago, Florida native John Heilig found himself in Emory University Hospital Midtown, not knowing how he got there or why. But it was thanks to a quick acting U.S. Customs and Border Protection agent at Hartsfield International Airport, followed by cardiac care teams at the hospital that kept him alive.
The now 67-year-old Heilig returned to the hospital this week to say thank you to the many health care providers who attended to him for 21 days at Emory University Hospital Midtown. "I just wanted to come back and thank everyone personally," says Heilig.
On Dec. 11, 2015, Heilig was en route from Hong Kong to Orlando when he went into cardiac arrest while going through U.S. Customs at the Atlanta airport. U.S. Customs and Border Patrol Protection agent Officer John Seebode instantly began CPR (cardiopulmonary resuscitation), while other agents in the airport rushed to get an automated external defibrillator (AED) and call 9-1-1.
After shocking him numerous times with the AED to stabilize his heart rhythm, Seebode was able to get Heilig's heart beating again. He was then transferred to Emory University Hospital Midtown.
"He gave me a Christmas gift — the gift of life for Christmas," says Heilig, who experienced a heart attack 10 years ago, but had no symptoms this time before his cardiac arrest.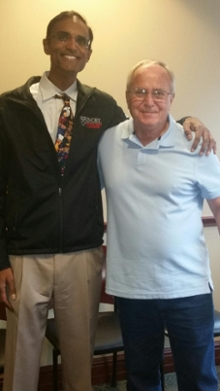 Chandan Devireddy and John Heilig
Interventional cardiologist Chandan Devireddy, MD, and the hospital's emergency catheterization team were on standby for Heilig's arrival and took him directly to the cath lab to assess his situation. The team found one of his three main coronary arteries completely blocked and quickly opened that blockage with angioplasty and a stent. Four days later, he made a second trip to the cath lab following a spontaneous cardiac arrest during his hospitalization.
One year later, Heilig and his daughter, Debbie Huff, were happy to be reunited with the care teams and Seebode under better circumstances. Doctors, nurses, physical therapists and others were thrilled to be a part of this reunion.
"We never have any expectations that patients have to come back and say thank you, but the fact that he did was a very special moment for all individuals that were involved in his care at the hospital," says Devireddy, who is an associate professor of medicine in the Division of Cardiology at Emory.
---