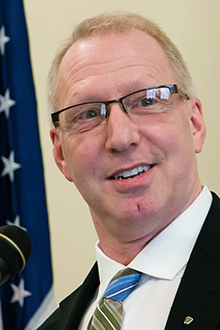 The Schwartz Center for Performing Arts at Emory University has appointed Dwight Vaught, an accomplished arts administrator and advocate, as its new executive director. Vaught succeeds founding director Robert McKay, who retires in January 2017.
Vaught comes to Emory from Eastern Illinois University, where he has served as the director of the Doudna Fine Arts Center and assistant dean for the College of Arts and Humanities since 2009. In his role as director, Vaught oversaw day-to-day operations of the Doudna Fine Arts Center while charting new directions in programming, strengthening and diversifying partnerships with the university and the region, and expanding community outreach through residencies and artistic engagement.
Vaught will assume his new director duties in January with the departure of McKay.
"I have had the privilege and distinct honor of directing the Schwartz Center for the last 15 years," says McKay. "What I'll remember most is the people: the staff, the students, the community members and the faculty. They have been some the most talented, creative, brilliant, weird and wonderful people I've ever worked with. I will miss them all. I know I leave the center in good hands with a dedicated staff, and unflagging university and Emory College support."
Under McKay's leadership, the Schwartz Center has presented 15 years of the Candler Concert Series, hosting such legendary performers as Lang Lang, New York Philharmonic, Philip Glass, Joshua Bell and the upcoming Renee Fleming performance in the Center's Cherry Logan Emerson Concert Hall.
As executive director, McKay also oversaw the Schwartz Center Artist in Residence program, which provides opportunities for meaningful contact with performing artists, composers, and art scholars from throughout the world.
"I'm very honored to follow in the footsteps of Bob McKay and to be a part of the Arts at Emory," says Vaught. "I'm equally honored to be given the opportunity to work with the fine staff at the Schwartz Center for the Performing Arts, and to maintain and establish collaborative partnerships with faculty and colleagues.
"The arts are broad, powerful and necessary," he says. "It will be a pleasure to explore the diversity of the arts together, and to harness their powers in the education of students and the cultural enrichment of us all."
---