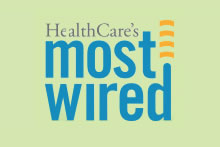 Emory Healthcare is the only health system to Georgia to be named a 2016 "Most Wired Advanced" health care system by the American Hospital Association's (AHA) Health Forum and the Hospitals & Health Networks. The Most Wired survey and benchmarking study is a leading industry barometer measuring information technology (IT) use and adoption among hospitals nationwide.
Only 366 hospitals and health systems throughout the U.S., including just four in Georgia, were named "Most Wired" for meeting core IT standards in four areas: infrastructure, business and administrative management, clinical quality and safety, and clinical integration.
Of that group of hospitals, Emory Healthcare is the only health system in Georgia, and just one of 19 in the nation, to exceed core development in all four focus areas, and meet criteria for "advanced."
"We are honored with this recognition, which reflects the comprehensiveness and integration of our clinical IT platforms," says Jonathan S. Lewin, MD, chief executive officer and chairman of the board for Emory Healthcare. "We are committed to creating a comprehensive digital environment that enhances the best experience for our patients and caregivers alike.
Hospitals that are considered "Most Wired" share many of the following characteristics: telehealth programs, robust cybercrime protection and patient portals, to name a few.
To learn more about the 2016 "Most Wired" hospitals, visit this site: http://www.hhnmag.com/mostwired.
---