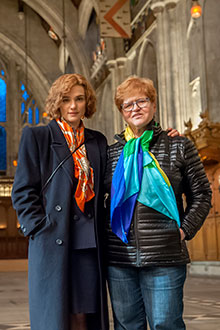 Actor Rachel Weisz and Emory professor Deborah Lipstadt on the set of "Denial." Photo by Liam Daniel/Bleecker Street.
The movie trailer has been released for "Denial," a feature film due out this fall that recounts Emory religion professor Deborah Lipstadt's internationally publicized legal battle against a British Holocaust denier.
Based upon her acclaimed 2005 memoir, "History on Trial: My Day in Court with a Holocaust Denier," the film stars Academy Award winner Rachel Weisz as Lipstadt, two-time Academy Award nominee Tom Wilkinson as her British barrister, and Cannes Award winner Timothy Spall as Holocaust denier David Irving.
In 2000, Lipstadt made international headlines when she was exonerated in a British court on libel charges brought by Irving over passages in her 1993 book "Denying the Holocaust" that identified him as one of the most dangerous proponents of the denial movement.
In the English legal system, the burden of proof is on the accused; therefore it was up to Lipstadt and her legal team to prove the essential truth that the Holocaust happened.
"Denial" co-producer Russ Krasnoff (Krasnoff/Foster Entertainment), Emmy Award winning director Mick Jackson and a camera crew came to Emory in February to film exterior shots of the campus, a visit that provided the opportunity for classroom discussions with Krasnoff and cameo appearances for a number of Emory students who served as background extras.
Lipstadt, Dorot Professor of Modern Jewish History and Holocaust Studies, has said that using the Emory Quad as a backdrop in the film was fitting, since it was here that her story began.
Released by Bleecker Street Media, the film is set to open in select theaters on Sept. 30.
---