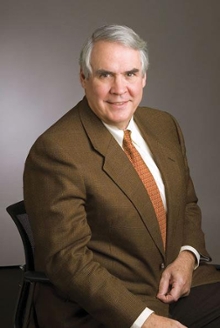 CHICAGO – Robert Guyton MD, FACC, has been awarded the Distinguished Service Award by the American College of Cardiology (ACC) in honor of outstanding contributions to the field of cardiovascular medicine.
The Distinguished Service Award is awarded to a physician, scientist or layperson who, by individual effort, has made profound contributions to medicine and/or the delivery of health care.
He will be recognized for these achievements, along with all 2016 ACC award winners, at the Convocation Ceremony on April 4 during the ACC's 65th Annual Scientific Session in Chicago. Recipients are nominated by their peers and then selected by the ACC.
"Dr. Guyton has made lasting contributions to the field of cardiovascular medicine through dedication to his patients, practice and colleagues," says ACC President Kim Allan Williams, MD, FACC. "It is an honor to be able to recognize Dr. Guyton with the Distinguished Service Award and celebrate his contributions to and achievements in cardiology."
Guyton has served as chief of the Division of Cardiothoracic Surgery at Emory since 1990 and is currently the chief of cardiothoracic surgery at Emory University Hospital. He is a Distinguished Charles Ross Hatcher, Jr., Professor of Surgery and the director of the Thoracic Surgery Residency Program, Emory University School of Medicine. 
Throughout his career, Guyton has held various high-level offices in numerous surgical societies, including a 2003-2004 term as president of the Society of Thoracic Surgeons and an ongoing membership on the Board of Directors of the Thoracic Surgery Foundation for Research and Education.
---