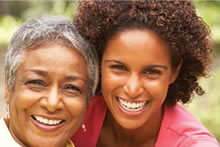 Through a new cardiovascular screening program called 10,000 Women, the Emory Women's Heart Center (EWHC) hopes to improve the heart health of African-American women in Metro Atlanta. Both screening participants and volunteers are needed to help with this important project.
The mission of the 10,000 Women program, is to screen 10,000 African-American women over the next few years for hypertension to ultimately reduce stroke and heart disease. The program offers free cardiovascular risk screening events throughout the Metro area at local churches, community centers or events.
"Studies spanning several decades have shown that as many as one-third of all individuals with hypertension remain undiagnosed, and an additional one-third are diagnosed, but undertreated," says EWHC clinical director Gina Lundberg, MD, assistant professor of medicine, Emory University School of Medicine.
"With the increased incidence of hypertension among African American women, we are focused on reaching this population. Early detection and treatment can help save lives."
In 1998, Lundberg founded and directed the first women's cardiac prevention program in the state of Georgia and in 2007 started the Saint Joseph's Heart Center for Women.
In addition to being screened for hypertension and other cardiovascular risk factors, each participant in the 10,000 Women project will receive education on the risk factors of cardiovascular disease, and resources for follow up care, as needed. Participants will be contacted six months later to determine if further information or assistance is desired.
"We are hoping the people of Atlanta will respond to our call for volunteers and take part in this lifesaving, grass roots project. We have a number of community partners and are hoping to increase those as well," says Lundberg.
Emory's 10,000 Women project, which is funded by Boston Scientific, is in need of nurse practitioners, registered nurses, techs and other clinical staff to assist during screening events, including five events scheduled in February and early March. Project leaders also welcome non-clinical staff to help with intake forms, answer questions and help move patients through the screening process.
Current community partners include: Community Unification Initiatives, Inc.
American Heart Association, Phenomenal Women, WomenHeart, Healthy Heart Coalition, Emory School of Nursing, Congregational Care Ministry, Our Lady of Lourdes and Alpha Kappa Alpha, Inc.
Referring partners are Grady Memorial Hospital, Mercy Care and City of Refuge.
To host a screening or volunteer for an upcoming event, please visit: www.emoryhealthcare.org
EWHC was founded in 2014 as a program uniquely dedicated to the screening, prevention and treatment of heart disease in women.  With six locations in the metro Atlanta area, one of the main goals of the Center is to raise awareness among women of the dangers of heart disease. 
---