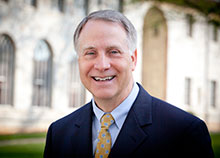 After more than a decade of leading Emory University's steady rise in academic, research and health care eminence, Emory President James W. Wagner has announced that he will step down from the presidency at the end of August 2016. 
"The time is right, both for me personally and for Emory," says Wagner. "I have delighted in the good fortune of being part of this community during a period of tremendous growth in impact, depth, and richness––all grounded in the special character of this place."
Emory Board of Trustees Chairman John F. Morgan expressed appreciation for Wagner's stellar leadership in advancing Emory as a destination for the best and brightest students, outstanding faculty and staff, and renowned researchers and health care providers. 
"President Wagner's leadership has firmly established Emory as a great national university in every measure, from the enrollment of superb students, the growth of a world-class community of scholars and researchers, and the expansion of cutting-edge facilities that enable the university to fulfill its highest aspirations," says Morgan. "Jim exemplifies the very qualities that define Emory, and he has well positioned the university to continue its pursuit of excellence in all aspects of its mission." 
The Emory Board of Trustees will establish a selection process to begin the work of identifying Emory's next president.
Under Wagner's leadership over the past 12 years, Emory has achieved notable milestones in its academic, research and health care mission.
Wagner's major accomplishments include:
Leading the largest fundraising campaign in the history of Georgia, resulting in the investment of $1.7 billion in support of the university's initiatives in teaching, research, scholarship, patient care and social action. 
Guiding the Emory community in developing the university's first vision statement, which established the foundation for a 10-year strategic plan focused on key areas including strengthening faculty distinction, ensuring the highest student quality and enhancing the student experience, and exploring new frontiers in science and technology. 
Recruiting a world-class and diverse community of scholars and researchers, with the result of an increased number of appointments to national academies and external research funding that this year tops a record $570 million. 
Recruiting outstanding students and providing support and resources that will enable them to thrive and fulfill their aspirations. The Class of 2019 comes from the largest pool of applicants ever (more than 20,500 for a class of 1,358) with impressive academic credentials and extensive accomplishments. 
Advancing all aspects of the university's mission through the innovative design and construction of a number of new facilities to support health sciences research, science education, residential life, library resources and patient care.
---