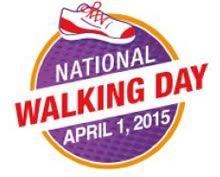 Emory Healthcare will join millions of Americans supporting the American Heart Association's (AHA) National Walking Day on April 1.
The AHA's 9th annual event encourages people to take at least 30 minutes out of the day on Wednesday to walk.
"We are joining people across the US who are lacing up their sneakers and pledging to start a healthier lifestyle by participating in National Walking Day," says Emory Heart & Vascular Center cardiologist Laurence Sperling, MD, professor of medicine at Emory University School of Medicine.
"The health benefits of walking and staying active are immeasurable," says Sperling.
In observation of National Walking Day, Sperling is participating in a national online event on the AHA and American Stroke Association's Support Network, a new initiative to provide emotional and practical support to people living with heart disease and stroke. The all-day web session will focus on physical activity and recovery after a heart attack or stroke. To join the Network, please click here.  
For overall cardiovascular health, the AHA recommends 30 minutes of moderate-intensity aerobic activity at least five days per week and moderate to high- intensity muscle-strengthening activity at least two days per week for additional health benefits.
For more information on National Walking Day or to register for a free walking resource kit from the AHA, please visit: http://www.startwalkingnow.org/about_start_walking_day.jsp
---