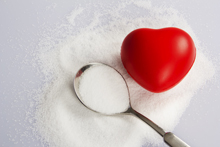 A study from Emory University, published Jan. 19 in the online edition of JAMA Internal Medicine, shows that salt intake was not associated with mortality or risk for cardiovascular disease (CVD) and heart failure (HF) in older adults based on self-reported estimated sodium intake.
Researchers from Emory University School of Medicine, led by Andreas P. Kalogeropoulos, MD, MPH, PhD, looked at the association between dietary sodium intake and mortality, CVD and HF in a group of 2,642 adults ranging in age from 71 to 80 years old. Approximately 51.2 percent of the participants were female and 38.3 percent were black.
Kalogeropoulos and his coauthors examined 10-year follow-up data from the older adults participating in a community-based study sponsored by the National Institutes of Health focused on the aging process. The participants' dietary sodium intake was assessed at baseline with a questionnaire.
"There is ongoing debate on how low should we go when it comes to dietary sodium restriction recommendations and not much data on restriction among older adults, especially those with their blood pressure on target," says Kalogeropoulos, an assistant professor of medicine (cardiology) in the Emory University School of Medicine. 
According to the study, achieving a sodium intake of less than 1,500 mg/day as currently recommended for adults over 50 also is difficult for older adults in part because of long-held dietary habits.
They found that after 10 years, 881 of the participants had died, 572 had developed CVD and 398 had developed HF. Sodium intake was not associated with mortality, or new development of CVD or HF, according to study results.
Ten-year mortality rates were 33.8 percent, 30.7 percent and 35.2 percent among participants consuming less than 1,500 mg/day, 1,500 to 2,300 mg/day, and greater than 2,300 mg/day of sodium, respectively.
According to the Centers for Disease Control and Prevention guidelines, dietary sodium intake should be lower than 2,300 mg/day for the general population (approximately 6 grams or a teaspoon of salt) and under 1,500 mg/day for high risk groups, including older adults. Kalogeropoulos says this remains the best approach until more data are available.
"Patients should not interpret our findings as a 'license' to consume more salt," says Kalogeropoulos.
"Our data emphasize the need for stronger evidence, preferably from rigorous controlled trials testing additional thresholds for sodium intake in older adults."
Kalogeropoulos also stressed that the study findings do not apply to older adults with pre-existing cardiovascular disease or heart failure.
View the JAMA Internal Medicine study.
---