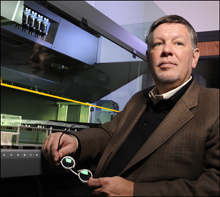 The National Institutes of Health (NIH) has awarded a five-year grant of more than $9 million to investigators at Emory University to study fragile X syndrome-associated disorders and work toward developing effective treatments.
The grant is one of three nationally to support the Centers for Collaborative Research in Fragile X. It is a renewal of Emory's National Fragile X Syndrome Research Center that has been continuously funded by NIH since the inception of such centers 10 years ago.
The principal investigator is Stephen T. Warren, PhD, chair of the Department of Human Genetics, William P. Timmie Professor and Charles Howard Candler Chair of Human Genetics at Emory University School of Medicine. Stephanie Sherman, PhD, Emory professor of human genetics, is associate director of the center.
Fragile X syndrome, Fragile X-associated tremor/ataxia syndrome (FXTAS), and Fragile X-associated primary ovarian insufficiency (FXPOI) result from a variety of mutations in the FMR1 gene. FMR1 normally makes a protein that helps create and maintain connections among cells in the brain and nervous system.
Fragile X syndrome is the most common form of inherited intellectual and developmental disabilities, affecting approximately 1 in 4,000 males and 1 in 8,000 females. Fragile X disabilities, including emotional and behavioral problems, range from mild to severe, and as many as 30 to 50 percent of people with Fragile X syndrome also have features of autism spectrum disorders. Fragile X syndrome is most often due to a large expansion of a repeat within the gene that inactivates it.
FXTAS is a neurodegenerative disorder that causes gradual loss of muscle control and cognitive abilities. It primarily affects males after age 50. FXPOI causes fertility problems in women as well as increased risk of osteoporosis and heart disease. FXTAS and FXPOI are due to an intermediate repeat expansion that is less than the length causing Fragile X syndrome but larger than normal.
The Emory research team plans to perform whole genome sequencing on 600 patients to find modifier genes that predispose people with mutations in the FMR1 gene to epilepsy, FXTAS, or FXPOI. For example, 15 percent of males with fragile X syndrome also have epilepsy, so investigators will sequence 200 males with fragile X syndrome, half with epilepsy and half without. The aim is to identify genome variation that leads to epilepsy in a person with Fragile X syndrome.
Similarly, carriers of a different form of the FMR1 gene, the premutation, have a 15 percent chance of having FXPOI (female carriers) or a 30 percent chance of having FXTAS (male carriers).
"By identifying genome variants that trigger another disease or increase the severity of the associated medical outcome among carriers of a FMR1 gene mutation, we will gain insight into the mechanisms of disease and potentially be able to develop a diagnostic test that can predict those at risk prior to clinical onset," says Warren. "We also expect the genes we identify in the affected systems will provide insight into other forms of epilepsy, ovarian dysfunction and neurodegenerative disorders."
Other faculty in the center include Emily Allen, PhD, David Cutler, PhD, Michael Epstein, PhD, Andrew Escayg, PhD, Peng Jin, PhD, Jeannie Visootsak, MD, and Michael Zwick, PhD, in the Emory Department of Human Genetics; Sandra Helmers, MD, Jorge Juncos, MD, and Naymee Velez-Ruis, MD, in the Department of Neurology; and Jessica Spencer, MD, in the Department of Obstetrics and Gynecology.
Other collaborative centers were funded at the University of Texas Southwestern Medical Center in Dallas and the University of Massachusetts Medical School in Worcester. Gary Bassell, PhD, professor of cell biology at Emory University School of Medicine, is a collaborator with the University of Massachusetts center studying three molecules that appear to play important underlying roles in Fragile X syndrome and that could be possible drug targets.
The Eunice Kennedy Shriver National Institute of Child Health and Human Development, the National Institute of Mental Health and the National Institute of Neurological Disorders and Stroke are contributing funding and scientific expertise for the collaborative centers. Emory's grant number is 1U54 NS091859-01.
---