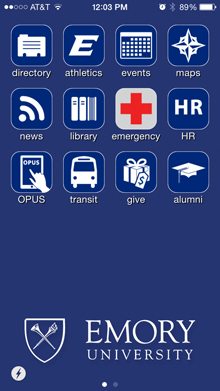 As the 2014-2105 academic year begins, there are many technology resources available for students and other members of the Emory community to get connected on campus and make day-to-day lives easier.
Tony Shiver, manager of Student Services for Emory Libraries and Information Technology Services (LITS), recommends the following resources — some new, some time-tested — to make the electronic transition back to Emory as seamless as possible.
Emory Mobile: Emory's mobile app has been updated for iPhone and Android devices to offer an improved interface and new features for visitors and the Emory community. An OPUS module has been added to the app for keeping up with courses, and the app was completely rebuilt on Blackboard Mobile's new Mosaic for Mobile platform. emory.edu/mobile
Emory Box: This is a secure, Emory-based version of Box, a popular cloud-based storage device that allows document sharing and collaboration on desktop, tablet and mobile devices. emory.box.com
Office 365: Emory is now connected through Microsoft Office 365, a cloud-based communication system. Students can use Office 365 to access Internet email, personal and shared calendars, as well as a collaboration tool called Lync, which provides real-time chat capabilities. Students also will be able to use Office 365 to reserve meeting space in Woodruff Library. it.emory.edu/office365
Emory Social Media Hub: This social media clearinghouse connects all things Emory in one place including feeds from Emory's official Twitter, Facebook, Instagram, LinkedIn, Google+ and YouTube profiles, with a sample of the latest social media posts from others about Emory. emory.edu/socialhub
Emory Bubble: Designed to be Emory's official campus life network, this social media platform allows students, faculty, staff and alumni to share content via user-created groups called "bubbles." Interactive features facilitate community-wide discussions and disseminate media-rich content to users. emorybubble.com
Student Technology Support: Students should be aware that LITS Student Services provides support for all students' personal technology and electronics devices. Become familiar with the services available at the Computing Center at Cox Hall and the Learning Commons at Woodruff Library, including a new presentation practice and video conferencing space available to students in Room 213 at Woodruff Library.
Part of the NextGen Learning Commons Level 2 renovation completed in early August, the new technology-rich environment enables students to practice and record presentations, play them back, and package them to email to themselves, other students, or faculty. Students also can use the facilities to videoconference with students or faculty from other universities. it.emory.edu/studentservices
---