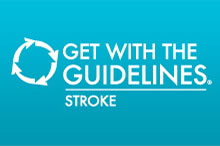 Four Emory hospitals and one Emory-affiliated hospital have received recognition for excellence in stroke care from the American Heart Association/American Stroke Association.
Emory University Hospital, Emory Johns Creek Hospital, Emory Saint Joseph's Hospital and Southern Regional Medical Center all received the "Get with the Guidelines-Stroke" Gold-Plus Achievement Award for implementing specific quality improvement measures outlined by the American Heart Association/American Stroke Association for treatment of stroke patients. Emory University Hospital Midtown received the "Get with the Guidelines-Stroke" Silver-Plus Achievement Award.
Get with the Guidelines Stroke helps hospital teams provide care aligned with the most up-to-date, researched-based guidelines with the goal of speeding recovery and reducing death and disability for stroke patients. The five hospitals earned the award by meeting specific quality achievement measures for the diagnosis and treatment of stroke patients at a set level for a designated period. The measures included appropriate use of medications and risk-reduction therapies to assist in treatment.
The hospitals receiving Gold-Plus recognition also placed on the "Target: Stroke Honor Roll" for meeting stroke quality measures that reduce the time between hospital arrival and treatment with a clot-buster medication, tPA, the only drug approved by the U.S. Food and Drug Administration to treat ischemic stroke. People who suffer an ischemic stroke and receive the drug within three hours of the onset of symptoms may recover more quickly and are less likely to suffer severe disability.
"Emory hospitals are dedicated to improving the quality of stroke care for our patients and their families," says Babs Hargett, RN, corporate director, Office of Quality for Emory Healthcare. "We are excited about our achievements, which demonstrate that our hospitals and staff are committed to caring for stroke patients based on internationally-accepted clinical guidelines."
According to the American Heart Association/American Stroke Association, stroke is the number four cause of death and a leading cause of adult disability in the U.S. On average, someone suffers a stroke every 40 seconds; someone dies of a stroke every four minutes; and 795,000 people suffer a new or recurrent stroke each year.
---