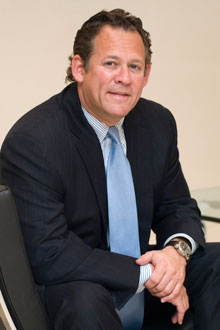 Medal-winning Olympians and Paralympians will gather at Atlanta Public Schools' (APS) Maynard Holbrook Jackson High School on Friday, Sept. 27, at 10:30 a.m. to address middle- and high-school students about overcoming adversity and achieving goals.  
Their appearance is part of Graduation Generation, a collaborative initiative designed to improve student academic performance and increase students' chances for success in high school and beyond. A partnership between Emory University's Center for Community Partnerships, APS and Communities In Schools, Graduation Generation collaborates with other partners, especially the Zeist Foundation, a long-time supporter of communities and schools in east Atlanta.  
About 500 students will hear from the athletes and philanthropist and businessman Rick Rieder, Emory alumnus and chief investment officer of Fundamental Fixed Income for BlackRock, Inc., whose gifts of more than $1.5 million since 2010 established Graduation Generation.  
During the 10:30 a.m. event, athletes and community leaders will share inspiring stories of success and obstacles overcome.  
Presenters include:  
Jeremy Campbell, Paralympian in track and field who took home multiple gold medals at the 2008 Paralympic Games in Beijing and broke the world record in the American Discus F44 four times at the 2012 London Games.
Cullen Jones, Olympic swimmer who won a gold and two silver medals at the 2012 Olympic Games in London.
Christian Laettner, former Duke University and NBA basketball star who won a gold medal with the 1992 U.S. Men's Olympic Basketball Team, also known as "The Dream Team."
Kari Miller, Paralympian in sitting volleyball who won silver medals in 2012 and 2008. She's also a military veteran, having served in Bosnia and Korea in the late 1990s.
Tim Morehouse, an American fencer who won a silver medal as a member of the U.S. fencing team in 2008. Morehouse has spoken to more than 30,000 students about achieving their dreams.
Brad Snyder, U.S. Paralympic swimmer, won one silver and two gold medals at the 2012 London Games. He currently holds the world record for the 400-meter freestyle among blind swimmers. A U.S. Navy veteran, Snyder lost his eyesight from an IED explosion while serving in Afghanistan.
Charlie Huebner, chief of the U.S. Paralympics of United States Olympic Committee since July 2006.
Graduation Generation: Improving student performance
Rieder also will speak to students. An Emory alumnus, Rieder has been active in education reform efforts as founder of Graduation Generation Atlanta, chairman of the North Star Academy Charter Public School System in Newark, N.J., and a member of the boards of the National Leadership Council for the Communities in Schools Educational Foundation and the Newark Youth Foundation.  
Partners in Graduation Generation envision the program as a best-practices solution for decreasing dropout rates and increasing graduation rates that can be duplicated in school systems throughout the country.  
During phase I of the program at APS' Sammye E. Coan Middle School, student performance improved, parent involvement doubled, absenteeism decreased, and disciplinary referrals dropped. Performance on standardized tests improved in sixth grade math, sixth and seventh grade social studies, seventh and eighth grade science, and eighth grade language arts.  
The program uses a "cradle-to-career" strategy to maximize opportunities for student learning and personal development beginning in elementary school and continuing through high school graduation.
A proposed phase II will expand the model from one school serving 350 students to 10 schools serving 3,500 students in the Jackson High School cluster.
---