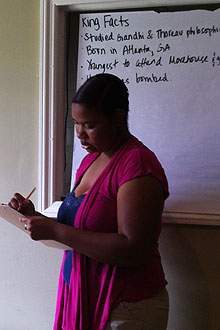 Students at Maynard H. Jackson High School in Atlanta are being trained this week in Kingian Nonviolence methodology based on the philosophy and tactics of the Rev. Dr. Martin Luther King Jr. The experience will prepare them to practice — and train other students — in the principles of Kingian Nonviolence, which lead to positive conflict resolution.
The nonviolence project, an initiative of the Graduation Generation collaborative, was launched last spring and extended into a weeklong camp this month.
The three-year-old collaborative is led by Emory University and includes government, community, philanthropic, and higher education partners working with the Atlanta Public Schools to prepare elementary and secondary students for academic success and high school graduation.
The Kingian Nonviolence curriculum is based on a manual by Bernard Lafayette, a veteran civil rights activist, and David C. Jehnsen, a Kingian Nonviolence educator. Lafayette, currently a distinguished senior scholar-in-residence at Emory's Candler School of Theology, serves as an adviser to the project at Jackson High.
Lafayette began his work with King in the late 1950s and has continued throughout his career to influence social change nationally and internationally. He has used the manual and methodology globally to transform school cultures, stem the tide of gang violence, and facilitate positive change in community relationships.
The training includes two panel discussions. The first covers legal terms and burden of proof to help students better understand the law and the Trayvon Martin case. The second focuses on how to overcome obstacles to achieve goals. Panelists include Emory's Center for Community Partnerships staff, Candler graduate students, and Candler Professor Gregory Ellison, author of the new  book, "Cut Dead, But Still Alive: Caring for African American Young Men."
Last spring, phase one of the nonviolence project included 16 hours of core instruction for students. This week, phase two gives students 40 hours of train-the-trainer instruction. Two Graduation Generation staff members from Emory serve as instructors, assisted by six graduate students from Candler and one undergraduate from Oglethorpe University.
Launched in 2010, the Graduation Generation collaborative, builds on a decade of work in East Atlanta by the Zeist Foundation. Initially focused on the neighborhood's Sammye E. Coan Middle School, the initiative has since expanded to serve Martin Luther King Jr. Middle and three elementary schools, as well as Jackson High, all in a 10-school cluster. The goal is to extend the dropout prevention program throughout the cluster and establish a best-practices model for schools in greater Atlanta and beyond.
About Graduation Generation
Graduation Generation is a family-school-university-community collaborative that includes the Atlanta Public Schools, Emory's Center for Community Partnerships, and Communities In Schools Atlanta, working closely with the Zeist Foundation, and more than a dozen other community and philanthropic organizations. 
---