Before Yiwen "Helen" Li began her freshman year at Emory last fall, she knew there were a few things she wanted to learn first.    
More than knowing directions to the library, the Beijing native sought an education into American campus culture — from food and clothing trends to regional history, and even how to properly address a professor.   
She found that and more through Academics and Culture at Emory (ACE), a four-week program launched last summer to help incoming international students adjust to life on campus (and Atlanta) well before classes begin.  
For Li, the experience provided both a practical introduction to college life and welcome language-immersion exposure. "It was very good preparation, it really helped," says Li, now a rising sophomore biology major who plans to pursue a career in health sciences.  
"We had an ESL (English as a Second Language) class and American history studies class, where we learned about American culture and values, how Americans eat and dress, which made it much easier to talk with American students and learn about their lives," Li says. "And it was good to know the historic context of the area."  
This month, Emory's second international ACE class concludes its four-week program with participants from India, China, Korea, Saudi Arabia and Japan. "We were delighted with the increased diversity," notes Ursula Spitzer, ACE program coordinator and assistant director of the Office of International and Summer Programs where ACE is housed.  
"Last year, we limited it to non-native speakers; this year we opened it up to all international students," Spitzer says. "They're so ready to be here. For many, it's their dream school."  
Like last summer's inaugural ACE session, this year's students have not only participated in a language-supported instruction in a classroom setting — the program includes a four-credit American studies course — they also learned about a variety of essential campus departments and services.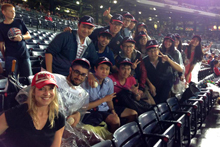 ACE program participants attend a Braves game. Courtesy of the Office of International and Summer Programs.
Field trips provided a richer regional perspective, including visits to CNN, the Martin Luther King Center, an international farmer's market, and a Braves baseball game, among several community outings, Spitzer says.  
"Many of our field trips related to content from the classroom," she says. "This year, we're examining the amendments to the U.S. Constitution and civil rights. One of their projects will involve a comparative study about their country and the U.S."  
Not only does the ACE program provide international students a smoother transition into campus life and housing, it aids with the smallest adjustments, such as guidance in arranging for banking and cell phones.  
"We feel so strongly that this is a really great lead-in to their U.S. academic career," Spitzer says. "It's hard enough for American students, but add to that a cultural component and it can be really overwhelming."  
Looking back, Li found the ACE experience a supportive setting to soothe fears and answer questions. Best of all, the experience left her confident about stepping into an American classroom.  
"In class, we held debates and made presentations, which was very good preparation," Li recalls.  
 "All of us were from different backgrounds, some from public or private or international schools," she adds. "Not everyone had the same experiences, but the ACE program brought us together. We knew the resources and weren't so afraid to reach out for help."  
Those early bonds proved strong: "Last year, (our ACE class) had three or four reunions, catching up with each other on school and life," says Li, who notes that two of her suitemates this fall will be people she met through ACE.  
"Being far from home is a challenge for everyone. But forming good relationships during the summer helps," she says. "You'll have someone to talk to throughout the year."          
---