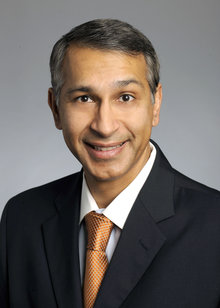 Emory cardiothoracic surgeon Vinod Thourani, MD, has been awarded the W. Proctor Harvey, MD, Young Teacher Award at the 2013 American College of Cardiology's (ACC) annual meeting in San Francisco, Ca. He is one of two recipients to receive the prestigious award this year, which is awarded every two years.  
The award recognizes and honors a promising young member of the American College of Cardiology who has distinguished him or herself by dedication and skill in teaching, and to stimulate, as far as possible, continued careers in education. Thourani was selected from among a highly competitive group of academic cardiologists to receive the award.  
"I am honored to be given this teaching award from the ACC," says Thourani, who is an associate professor of surgery, in the Division of Cardiothoracic Surgery at Emory University School of Medicine. "Teaching the next generation of physicians, and mentoring them to be the best they can be, is critical in academic medicine, and to the health care system as a whole. I thoroughly enjoy the teaching component of my profession." 
Thourani is associate director of the Structural Heart and Valve Center in the Emory Heart and Vascular Center. He is well known for his research and clinical work in Transcatheter Aortic Valve Replacement (TAVR) and minimally invasive valvular surgery for patients with severe aortic stenosis, a life-threatening heart condition where narrowing of the aortic valve restricts blood flow from the heart.
Using TAVR, a team of Emory interventional cardiologists and cardiothoracic surgeons places a new valve inside the heart without stopping the heart or even opening the chest. Patients can often recover more quickly from this minimally invasive approach to care.  
At the ACC, Thourani presented five invited lectures, including the three-year safety and outcomes data on the PARTNER cohort, a trial comparing transcatheter aortic valve replacement with surgical aortic valve replacement in high-risk patients with severe aortic stenosis.    
Thourani received his medical degree from Emory University School of Medicine, and completed his internship, residency and fellowship also at Emory.
---