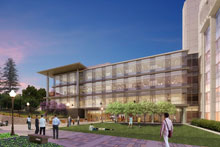 Chemists study the interactions of atoms in order to create new molecules. Emory chemists also like to experiment with the interactions of people and ideas, so they are creating space to foster new ways of teaching and research.
A $52 million expansion and renovation of the Sanford S. Atwood Chemistry Center, largely funded by the proceeds of a discovery of an HIV-AIDS drug made in the building, will transform the concrete exterior and boxed-in labs of the past into the sunlit foyers and communal spaces that reflect the department's vision of its future.
"The building project sits right in the middle of Emory's growing science commons," says David Lynn, the chair of chemistry. "It was important to all of us that the architecture have an open, welcoming feel. This space is a great opportunity to pull the sciences together."
"It's really an expression of the collegiality of Emory," adds Todd Polley, a materials scientist and the director of operations for the department. "Discoveries are being made at the interface of different disciplines, so we want to provide the best possible space for that interaction."
Groundbreaking is set for May 14, the day after Commencement, with completion expected in early 2015. About 40,000 square feet of existing space in Atwood will be renovated, and 70,000 square feet of new space will be added to the existing 200,000 square-foot chemistry complex of Atwood and Cherry L Emerson Hall.
---