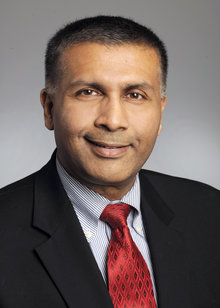 Emory is one of 17 collaborating centers from 10 countries participating in a new international consortium project aimed at earlier detection and prevention of heart failure.
The European Commission has awarded a grant of almost $16 million (EUR 12 million) to the Heart Omics in Ageing (HOMAGE) project, with a goal of better identifying more specific biomarkers for heart failure and then developing methods for earlier detection of risk in the elderly population.  
A biomarker, or biological marker, is a characteristic that is objectively measured and evaluated as an indicator of normal biological processes, pathogenic processes, or pharmacologic responses to a therapeutic intervention. It serves as a guide for health and physiology related assessments.  
The prevalence of heart failure is increasing worldwide because of the aging population and a rising trend of risk factors for heart disease -- such as diabetes, obesity and hypertension. Heart failure is a major cause of death and disability in the world and remains the most frequent cause of hospitalization for patients over 65 years old.  An essential step in preventing heart failure is to first accurately identify individuals at high-risk.  
"While the traditional risk factors like high blood pressure still remain important clinical guides, based on something that is termed as 'epidemiologic paradox', more cases of heart failure develop in individuals who do not have any specific high risk diseases," says Javed Butler, MD, MPH professor of medicine, Emory University School of Medicine and Director of Heart Failure Research at Emory. "Therefore, the HOMAGE project is researching more accurate methods of detecting heart failure risk using biomarkers leveraging the latest technology."  
Butler goes on to say, "We will use an 'omic-based' approach to evaluate individuals, meaning we will use related measurements and data from interrelated fields such as genomics, proteomics and transcriptomics to validate biomarkers that can predict future risks. This approach will help scientists understand new mechanisms, signaling pathways and therapeutic targets to prevent heart failure."  
This project will evaluate data from 30,000 patients from 10 countries. Emory investigators will work with the National Institutes of Aging-funded Health Aging and Body Composition Study, to assess the value of this approach among 3,000 elderly individuals in the U.S.  
HOMAGE will also lead a clinical trial to look for novel treatments of heart failure that can be targeted specifically to those patients at risk.  
"We are very excited to work with colleagues across Europe in this trans-Atlantic collaboration," says Butler. "This is truly a forward thinking approach that has the potential to benefit thousands of individuals in the United States."
---