Emory Police officers spent a recent Saturday morning patrolling Walmart. They weren't on duty, but had an important duty nonetheless: to serve children in need.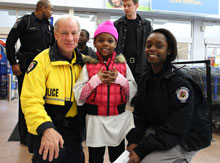 Officer Richard Mittenzwei (left), Cadet Chisom Mogbo (right) and the Emory Police Department helped share the gift of giving through the annual Santa Cop event. Photo by Melanie Knight.
Each holiday season for 21 years, the Emory Police Department gets into the spirit of giving by taking part in Santa Cop, an annual event hosted by the DeKalb Fraternal Order of Police Lodge that pairs needy children from DeKalb County schools with police officers from around the county to go Christmas shopping.
At Walmart, the children shop for gifts for their family and friends, and also get to choose a gift for themselves from a table of dolls and balls and video games. They team up with a police officer, who serves as their personal assistant, helping them stick to their shopping list and budget –a $200 allowance.
"I love seeing the faces of the children when they are paired with their very own officer," says EPD Sgt. Leigh Vaughn. "It's also amazing to see the officers interact with the children."
"It's not often that these children get to see police officers in a positive setting," she adds.
Vaughn helps organize EPD's participation in the event each year, with the support of Chief Craig Watson who encourages Emory officers and cadets, even dispatchers, to get involved.
From Walmart, the children are escorted to the DeKalb Fraternal Order of Police Lodge in a motorcade complete with lights and sirens "for the children's amusement," explains Vaughn. About 60 patrol cars with 72 officers took part in the motorcade this year, she says.
At the lodge, the children eat brunch, snap photos with Santa, and receive more gifts.
About 60 children participated in this year's Santa Cop program, held on Dec. 15, thanks to year-long fundraising efforts by the DeKalb Fraternal Order of Police.
"The more money we raise, the more kids we take shopping," says Vaughn. If the children go over their shopping allowance, she adds, many of the officers will even contribute their own money.
---