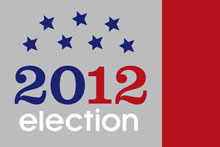 With Rick Santorum out of the Republican presidential nomination race, Mitt Romney is essentially the last man standing and the presumed Republican presidential nominee. Santorum's exit clears a patch for Romney to begin focusing his efforts on November's election and the race against President Obama. Emory University's Election 2012 experts give their insight on what's next in the race.
President Obama vs. Mitt Romney
In an election featuring President Obama against Mitt Romney, the current polls show a close race, says election forecasting expert Alan Abramowitz. The Emory political science professor says most polls show the president in the lead by only a few points, but some trends are now moving more in his favor. 
Difficulties of winning the election
Did Romney go too far right?
Emory associate professor of political science Andra Gillespie says that the Republicans this primary season have gone so far to the right, the nominee will have a difficult time coming back to the center to win the independent vote. She says while voters can expect Romney to make a turn back toward his moderate roots, he will likely pick a strong conservative as his vice presidential running mate.
Obama's difficult path to re-election
For President Obama, there is not so far a clear path to re-election. The political mobilization and race expert says the president won't receive the same support as in 2008 because so many people are dissatisfied with his first term.
Changing the primary system
Political science professor Merle Black says the political primary system will change in four years. Black, an expert in national politics and Republicans, says this season is so "long and vile" that the candidate will probably come out scarred.
---