It sounds like the ultimate scholarly indulgence: Choose one topic to explore for an entire semester. Then turn that subject inside out, examining it from a myriad of disciplines, philosophies and angles, with top researchers from across the University leading spirited discussions.
At Emory this semester, that experience is a reality. "Viral Cultures: HIV/AIDS in Global, Academic and Cultural Contexts" is the focus of a University Course offered through the Center for Faculty Development and Excellence (CFDE) that unites faculty and students from varied disciplines to examine multiple facets of a single topic.
Now in its second year, the University Course has drawn undergraduate and graduate students alike to the rigorous multidisciplinary curriculum, which covers a range of issues, from AIDS prevention in Zimbabwe to cutting-edge medical advances being developed at Emory.
The syllabus is rich and varied by design; topics may embrace science, religion, literature, law, business, philosophy, art and beyond. More than two dozen guest speakers shape the subject matter, and students craft responses in a class blog.
Each week brings new viewpoints. During one class, Visiting Global Health Lecturer Sandra Thurman, a former national AIDS policy director, discusses her experiences as the Clinton administration's "AIDS czar." Another day, Edward Queen from the Emory Center for Ethics examines the ethics behind allocating HIV/AIDS resources abroad.
A virtual prism of viewpoints
A few summers ago, law student Daniel Hougendobler was working in Rwanda interviewing policymakers about the impact of restrictions on international AIDS relief. This semester, he's employing a much broader cultural lens.
"My experience taught me how important it is to see this issue from different aspects, how one field can inform another," he says. "I had primarily seen the issue through a legal lens, so I'm excited to find a class like this."
With students in nursing, public health, theology, psychology, law and gender studies, the classroom is a virtual prism of viewpoints, says CDFE Associate Director Donna Troka. "The idea behind this course is that faculty and students from all units in a university should come together as a single entity to learn about and address an issue of common concern."
Troka administers the class alongside co-conveners Kimberly Hagen and John Blevins of the Rollins School of Public Health and CFDE Director Steve Everett.
"This course is a great example of the importance of liberal arts," says Troka. "The science is definitely there, and that's good. But you also need to understand how racism, inequality, classism and homophobia impact this, as well."
"The topic of HIV/AIDS is complicated. With this approach, you can begin to get at that complexity," Troka notes.
Amy Stein, a senior in psychology, was drawn to the class for personal reasons. Her father, a physician, contracted the virus that causes AIDS in 1990 by pricking his finger with an infected needle. Today, her father is in good health and practicing medicine.
Though the experience led the family to activism and philanthropy around AIDS, "it's not like we talk about it every night at dinner," Stein says. "I feel I know just as much or just as little as anyone in the class.
"I knew the basics and had a personal connection. But I was born in 1990 — I don't know a lot of the history. And there is so much to talk about … the medical facts, the health policies, the Ryan White Act. It's just been an amazing, top-notch class," she adds.
AIDS through the eyes of a new generation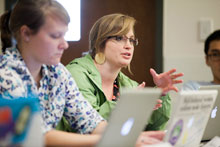 The University Course brings together faculty and students from all units to address an issue of common concern. Emory Photo/Video.
Last year's University Course focused on "Methland," a book about the impact of methamphetamines on a small Iowa town. Blevins, associate research professor of global health, was invited to speak to the class on religion and drug abuse. He found himself returning.
"I may have become the guest who overstayed his welcome — I ended up attending about half of the classes because I just found it really fascinating," says Blevins, whose own interdisciplinary research spans theology, public health, religion and sexuality.
This year, Blevins suggested choosing an HIV/AIDS focus for the University Course, recognizing the 30th anniversary of the first reported cases in the United States.
"Emory's research in relation to HIV is so extensive, it seemed that this was one of those topics that offered a lot of really interesting researchers ready to explore it," he says.
During a recent class, Blevins lectured on the history of AIDS activism in the United States and abroad. Discussion grew animated around an interview with Pope Benedict XVI regarding the use of condoms by male prostitutes for AIDS prevention. In time, the conversation focused on confronting social stigma while respecting cultural traditions.
"It's really interesting to watch students who come here from lots of different perspectives and places on their academic trajectory work together," says Hagen, assistant director of the Emory Center for AIDS Research.
"For my generation, one of the reasons this was a fascinating topic was that AIDS seemed to appear out of nowhere in our lifetime. All of the students in this class were born after AIDS came into being — it's something they grew up with. To find that they're interested and intrigued is gratifying," she says.
Based upon the popularity of the class — there was a waiting list this semester — it is certain to be offered next year. In fact, administrators are now considering offering more than one University Course during the academic year, Troka says.
Faculty should be receiving information on how to suggest topics for next year's classes in April, she adds.
---