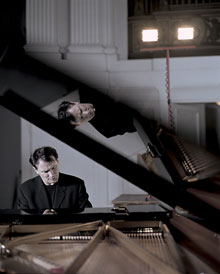 Christopher O'Riley, host of NPR's "From the Top" performs on March 2 at 8 p.m.
A collection of performances will vivify the spring season this month at Emory.
Flora Glenn Candler Concert Series brings outside talent to Emory this month, presenting Christopher O' Riley, piano on Friday, March 2 at 8 p.m. As host of the popular NPR music program, "From the Top," O'Riley is well-known for his eloquent and compelling musings on music and pop culture. His Emory performance will feature his unique repertoire, ranging from Chopin to Radiohead. Tickets: $46; discount category members $36; Emory students $10 or free with Arts Passport.
On Sunday, March 4 at 7 p.m., Emory Chamber Music Society of Atlanta Emerson Concert Series presents "First Life" by Steve Everett. This world premiere of Emory music professor Everett's new work will feature a multimedia environment and a performance with Vega String Quartet. Tickets: $20; discount category members $15; Emory faculty, staff, Friends of Music and all students free.
Emory University Symphony Orchestra performs on Thursday, March 8 at 8 p.m. This concert features Vaughn-Williams' Symphony No. 2 "A London Symphony," as well as a performance of Tchaikovsky's Violin Concerto by Anna Kang, winner of the 2011-2012 Concerto & Aria Competition.
Atlanta Youth Wind Symphony performs on Monday, March 19 at 8 p.m., with guest conductor David Kehler.
Atlanta Symphony Artistic Director Robert Spano and a collection of Emory's finest faculty and student voices join together for "The classics! An evening in ancient Greece and Rome with songs by Schubert, Brahms, and Wolf," on Tuesday, March 20 at 8:15 p.m. in Michael C. Carlos Museum Reception Hall. Spano is Emory's Distinguished Artist in Residence. Prior to the program, concertgoers are invited to explore the relationship between the poets and composers of German lieder and the ancient world in the Greek and Roman Galleries with curator Jasper Gaunt. Space is limited and a reservation is required by calling 404-727-6118.
On Wednesday, March 21 at 7:30 p.m., Emory University Organist Recital Series presents Timothy Albrecht performing "Well-Tempered Clavier II" Bach Birthday Recital in Glenn Memorial Auditorium. This recital is the second in Albrecht's four-year series of annual Bach Birthday Recitals, altogether presenting the nearly 100 preludes and fugues that comprise Bach's Well-Tempered Clavier I & II.
On Friday, March 23 at noon, The Blakemore Trio performs in the Carlos Museum Reception Hall. Known for their expressive versatility, the ensemble's innovative programming features the great master works of the past and exciting works of today.
The Blakemore Trio returns at 7 p.m. on March 23 with composer and singer Susan Botti, performing her original chamber work, "Gates of Silence," at Schwartz Center for Performing Arts Dance Studio. "Gates of Silence" connects three independent pieces inspired by Virgil's "Aeneid." The final piece sets to music poetry by National Book Award Finalist Linda Gregerson, who was awarded the Pushcart Prize for her poem "Dido Refuses to Speak," and was commissioned by Botti for "Gates of Silence."
Also on Friday, March 23, Barenaked Voices: Ninth Annual Emory Student A Cappella Celebration takes place at 8 p.m. Barenaked Voices is a showcase of Emory's student and faculty-led a cappella groups. Proceeds benefit Helpline and Active Minds.
Atlanta Sacred Chorale, Masterworks gives a performance of Handel's Messiah on Sunday, March 25 at 4 p.m. Tickets: $30 Adults; $20 Seniors/Students; $5 Emory Students with Emory ID. Tickets sold through Atlanta Sacred Chorale.
Emory Chamber Music Society of Atlanta Family Series presents Atlanta's Young Artists, an annual showcase of some of the Atlanta area's finest pre-college talent, hosted by Maestro Robert Spano on Sunday, March 25 at 4 p.m. in Carlos Museum. Tickets: $4; Museum members family level and above, free (limit 4).
Wrapping up the month is Emory Tango Ensemble and Tango Orchestra Club Atlanta performing traditional and contemporary Argentine Tango Music on Friday, March 30 at 8 p.m.
All concerts take place in the Schwartz Center for Performing Arts and are free and open to the public unless otherwise indicated. For details and information, contact the Arts at Emory box office at 404-727-5050, or visit arts.emory.edu.
---